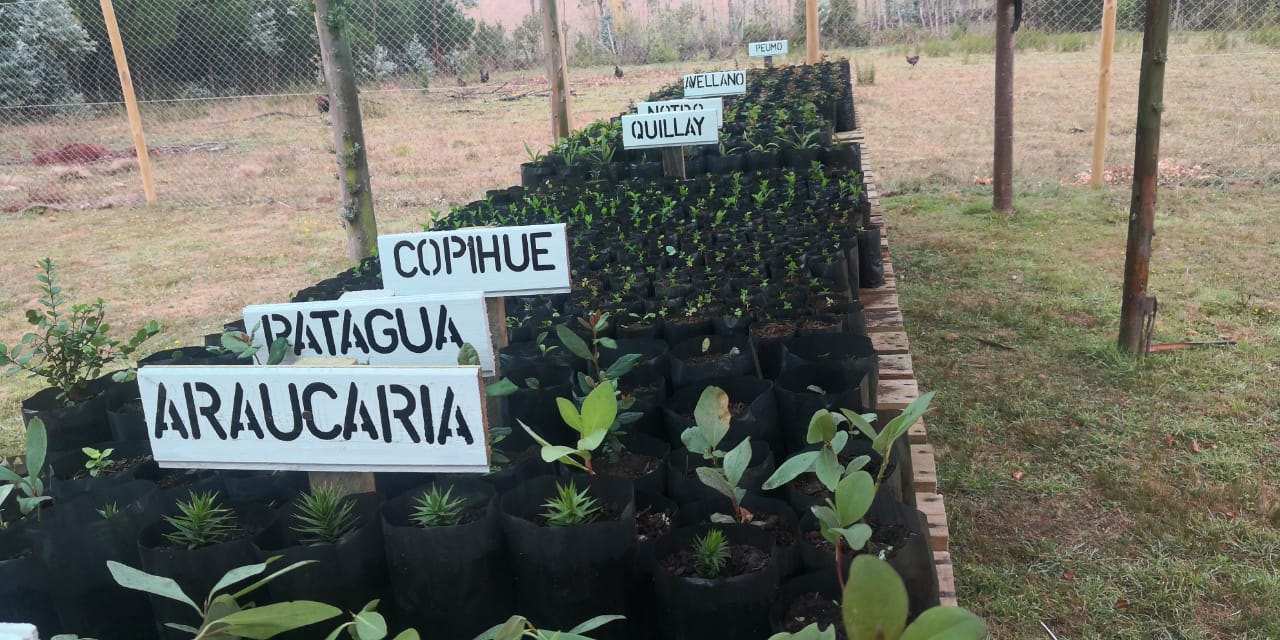 Native plant reforestation on the shores of Lleulleu Lake begins
An ambitious restoration and reforestation plan was hatched on the shores of Lleulleu Lake, considered to be some of the cleanest waters in South America according to the General Water Department (DGA). It aims to improve the quality of life of the Mapuche communities living in the area and help preserve their culture and traditions. 
Raulí, roble, quillay, arrayán, araucaria araucana and coihue are some of the native species that the families have grown using 19 greenhouses set up for such purposes through an unprecedented joint work project among 14 communities in the area and CMPC. The greenhouses have already produced roughly 100,000 plants for restoration with 70,000 more germinating. 
These facilities were launched in mid 2019 where approximately 150 people work, 95% of whom are women and also heads-of-households. Furthermore, this has created 35 more indirectly related jobs in food and transportation with another 50 jobs for the people who will be planting this native species in areas that will ensure their stable propagation. 
According to the CMPC Corporate Affairs Manager for the Southern Region Augusto Robert the key to these greenhouses has been their management by small businesses comprised of Mapuche local community members who have then hired workers that are part of the same community. "This has created a virtuous cycle between the need to improve people's quality of life and to preserve the natural environment where they maintain their traditions," said the CMPC executive.
This work has been undertaken together with the Industrial Corporation for the Regional Development of Biobío (CIDERE) and the Universidad del Development that has created a business plan for producing and selling plants from the greenhouses. 
COMPREHENSIVE PLAN
The reforestation initiative called "Project Lleulleu" is part of a comprehensive regional development plan in which CMPC works together with neighbors on programs to increase employability, prevent dropping out of school, build community infrastructure, improve access to water for human consumption and irrigation, promote tourism, and create alliances to foment developmental initiatives that help lead to more opportunities in the area.  
"CMPC has focused its community relations plan on implementing concrete solutions in the shortest time possible for problems that come up by conducting a thorough appraisal of each intervention area as well as dialogue with the involved communities," stated Robert. 
There are more than 390 Mapuche communities neighboring the company's forestry operations. They create spaces for ongoing dialogue as well as joint development projects that range from productive small businesses to protecting cultural sites. 
Alongside the greenhouses, the "Lleulleu Project" also includes improving equipment and infrastructure, and the sanitation, architectural, and commercial aspects of tourism activities. In fact, the Mapuche community infrastructure will be supported by building nearly 10 community centers and helping improve schools and churches. 
EDUCATION
Another problem that was uncovered ruing these long discussions between family and company representatives is the elevated rate of dropping out of higher education. 
For this reason, the "Project Lleulleu" created a permanent program with young people to accompany them in their studies and offer workshops, academic tutoring, employment counselling and monthly scholarship assistance. So far, 215 students have benefitted from the program that was set up in alliance with a specialized foundation. 
Furthermore, a number of educational workshops and classes have been created in order to help increase the employability of the residents free of charge. Course topics include tourism, forestry, plant production, administration, food hygiene and handling. 
SMALL BUSINESSES
Two initiatives to increase entrepreneurship also came out of the various conversations, which are to strengthen potato crops and come up with more sustainable firewood production methods. 
It was at the end of 2019, when farmers were harvesting about 40 tons of potatoes annually that they began to work with CMPC to market their products under the name "Poñi, potatoes from Tirúa". The name is a way to provide a seal of identity to the products coming from the Province of  Arauco. Today there are 13 families working with the Cooperative of Potato Growers with the aim of bringing to fruition the dream of increasing production, which the farmers have held for many years. 
It is also a profitable zone for berries, beekeeping and vegetables. 
Twenty deep wells were dug for watering native plant greenhouses and agricultural projects to ensure they last over time. The amount of water that was found provides a definitive solution to the shortage of this vital element of human consumption for many local families. That is why CMPC together with Desafío Levantemos Chile created the Water for Chile Challenge initiative that rapidly builds solutions to this problem. 
Another short-term project is the certified firewood production cooperative being set up in which five communities will work to sustainably manage 500 hectares of their own forests to make an eco-friendly product that will also create jobs and income.  
The entire set of initiatives that are currently in full swing have brought nearly 400 jobs to the area in forest management, fire fighting and prevention, native forest restoration, and construction and tourism. 
"The forestry industry and its associated products are not only a sustainable and renewable response to the growing demand for products coming from nature-based solutions, but it's also a powerful development tool for local communities," said Augusto Robert.