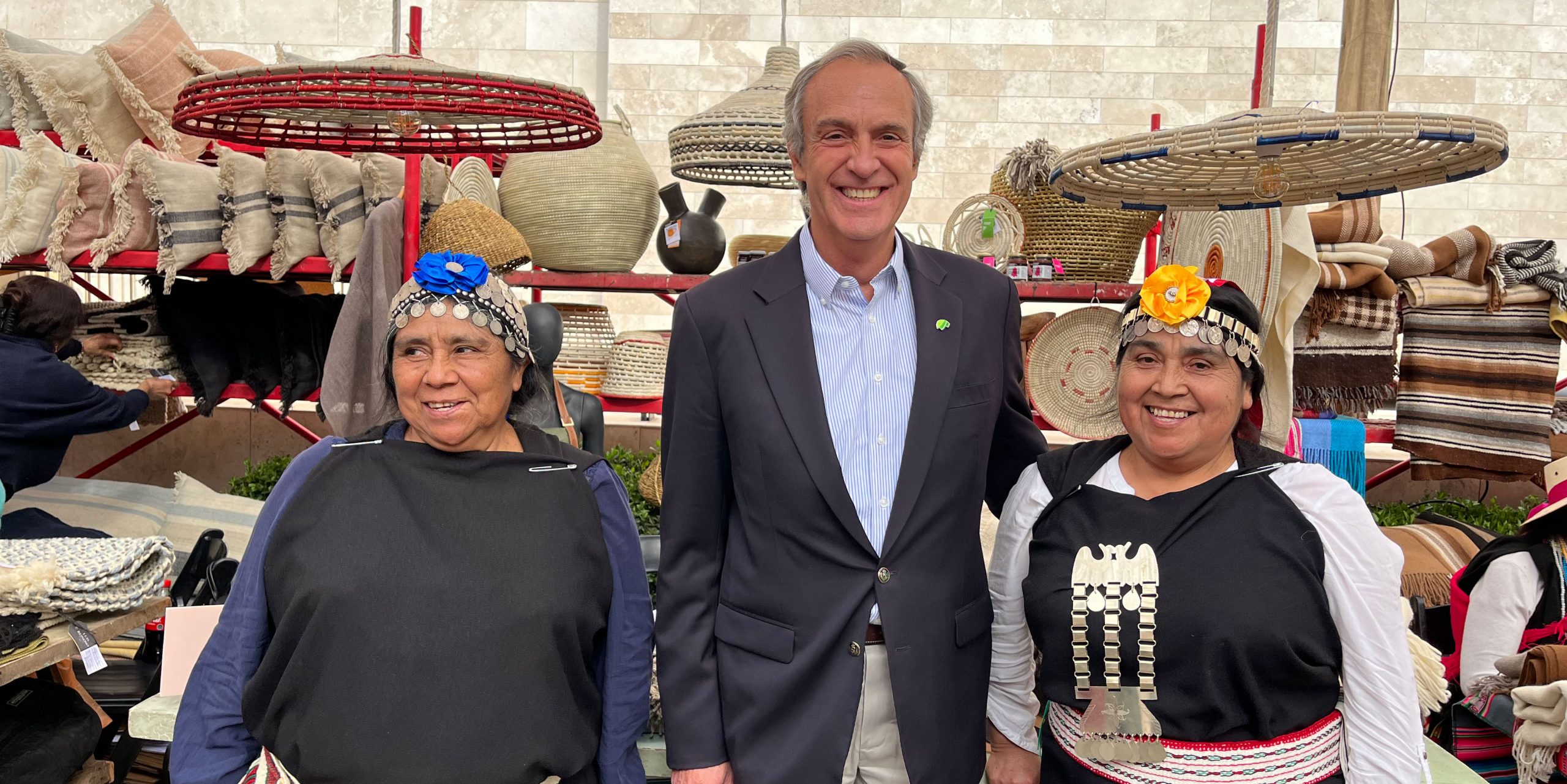 Primeros Pueblos is part of Heritage Day featuring artisans from southern Chile
The stands were attended by the artisans Gloria and Juanita Maribur from Ñocha Malen, Nancy Epulef, the only one preserving the Mapuche cacique poncho weaving technique, and Luz Chávez from Sabores Silvestres. They demonstrated their work and shared their ancestral knowledge with the Santiago public.
Over the weekend more than 2,000 activities were held in Santiago and the regions of Chile centered on culture, tradition and memory. They filled up the the streets, museums and monuments to celebrate National Heritage Day.
Primeros Pueblos [First Peoples] did not sit on the sidelines. With the aim of positioning and valuing the artisanal work of the women and men from southern Chile, it participated in the Al Cateo fair at Casacostanera and the Heritage Day celebrtaion of Lo Matta Cultural organized by the municipality of Vitacura. 
The sisters Juanita and Gloria Maribur, from Ñocha Malen, an organization of women from Cañete that works with the ñocha artisanal weaving technique, participated in the Al Cateo Fair. This is the event's third year, presenting 60 exhibitors in a tribute to the knowledge and creations of the Chilean textile world. 
On this occasion, the Primeros Pueblos stand stood out for its sheep wool products and vegetable fiber creations. The Maribur sisters were able to present their work and show visitors the process behind each piece. "I think it's fantastic because I get to be here in Santiago once again to demonstrate the fiber that we work with. I love being at the fair and showing these handmade vegetable fiber products and informing others about the material," said Gloria Maribur. 
CMPC Chairman Luis Felipe Gazitúa visited the stand and greeted the artisans. "Our intention is for artisans to know that people value their work," he said. "We want to call attention to a range of artisanal developments that can be found in southern Chile in the area where we operate. Many people put a great deal of effort into their work and do things with very deep cultural roots. It's hard to properly spotlight such things if they are being sold in just a limited way. That is why we created Fibra Local in Temuco some years ago, and we've also inaugurated Primeros Pueblos at Casa Costanera, which is part of today's fair showing the work of various artisans," he added after touring Al Cateo. 
Primeros Pueblos was also part of the Heritage Day of Lo Matta Cultural in Vitacura offering gastronomy, textiles, jewelry, basketry, and other products. The stand was attended by Luz Chávez, creator of Sabores Silvestres, with a special demonstration by Nancy Epulef, the only artisan who has preserved the ancestral technique of making the Mapuche cacique poncho. She shared her technique and cultural knowledge with visitors. "It's very important for me to be here. I feel very proud to be a Mapuche woman and very happy to be working with Primeros Pueblos," she said.