MISSION, VALUES AND CORPORATE PURPOSE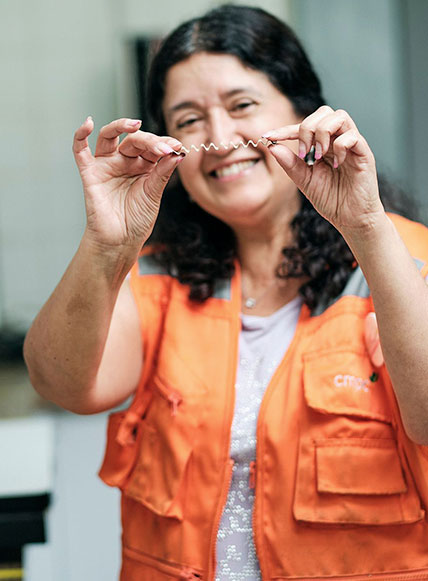 Produce and market – from man-made plantations – wood, cellulose, paper and tissue products in a sustainable way over time, with superior and competitive quality, innovating and adding value for shareholders and customers, and creating development opportunities for employees and local communities.
We aim for sustainability in order to achieve excellent economic performance while respecting stakeholders and protecting the environment.

OUR PURPOSE
We make natural fibers for a better future.

The relationship between human beings and the planet is becoming more responsible, meaningful and conscious. Our essence, the forest, natural fiber and our products are essential for contributing toward a sustainable society.
At CMPC, we are committed to this vision that drives us to evolve as individuals, a company, the forest industry and as a society overall. We do so with our values, history and the aim of growing together as the starting point.
The 2030 Strategy was built atop this new corporate purpose, which has five strategic pillars, ambitious actions and goals that seek to consolidate CMPC as a world-class player while also doubling in size. To do this, it focuses on meeting the needs of customers and consumers with innovative solutions based on natural and renewable fibers.
OUR VALUES
In order to fulfill this mission, everyone at CMPC guides their actions in keeping with the corporate values.
RESPECT
We are committed to the safety, well-being, development and protection of people's lives and their environment, treating them with dignity, listening to them, valuing diversity and the particular contributions that everyone makes from their personal authenticity.
INTEGRITY
We act with honesty, transparency and humility, honoring our word and holding ourselves accountable for our actions and their consequences. We build bonds of trust by committing ourselves to creating shared value and growing together in all of our relationships.
COURAGE
We make decisions and express our ideas courageously, constantly challenging ourselves. We seek to learn from our mistakes and develop innovative ideas to create forward-looking solutions while being leaders in everything we do.
COLLABORATION
We work as a team by strengthening horizontality, a sense of responsibility and empowerment with the conviction of achieving excellence and creating value for our customers and society. We deliver our very best in everything we do.