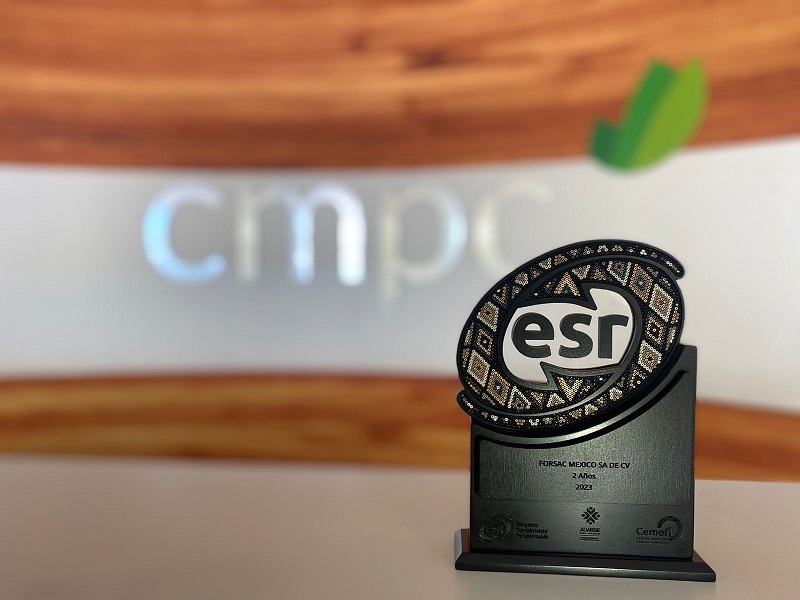 CMPC Mexico earns the social responsibility badge for the second year in a row
The two Sack Kraft Mexico plants have once again been honored with the Socially Responsible Company (ESR) badge that vouches for the Company's social commitment.
CMPC's Sack Kraft plants in Mexico (Irapuato and Guadalajara) were once again chosen to receive the Mexican badge awarded to Socially Responsible Companies (ESR). Its purpose is to highlight and vouch for a company's social commitment with employees, customers, governmental authorities and the larger community.
Javier Barrera, Manager of Sack Kraft Mexico said, "I'm proud that our teamwork and efforts during this time have paid off, not only in terms of protecting people and the environment, but in everything we do as a company, understanding the impact we have on our stakeholders. The key is to be ethical, work as a team and remain unflagging in our adherence to best practices."
To obtain this distinction, the departments of safety, environment, governance and quality of human life were bolstered, and collaborators were involved in various activities to create positive impacts for the community.
This recognition connects to the 2030 Strategy driven by CMPC, specifically for the Sustainability pillar whose goals include building social capital and turning the Company into a change agent for community development.