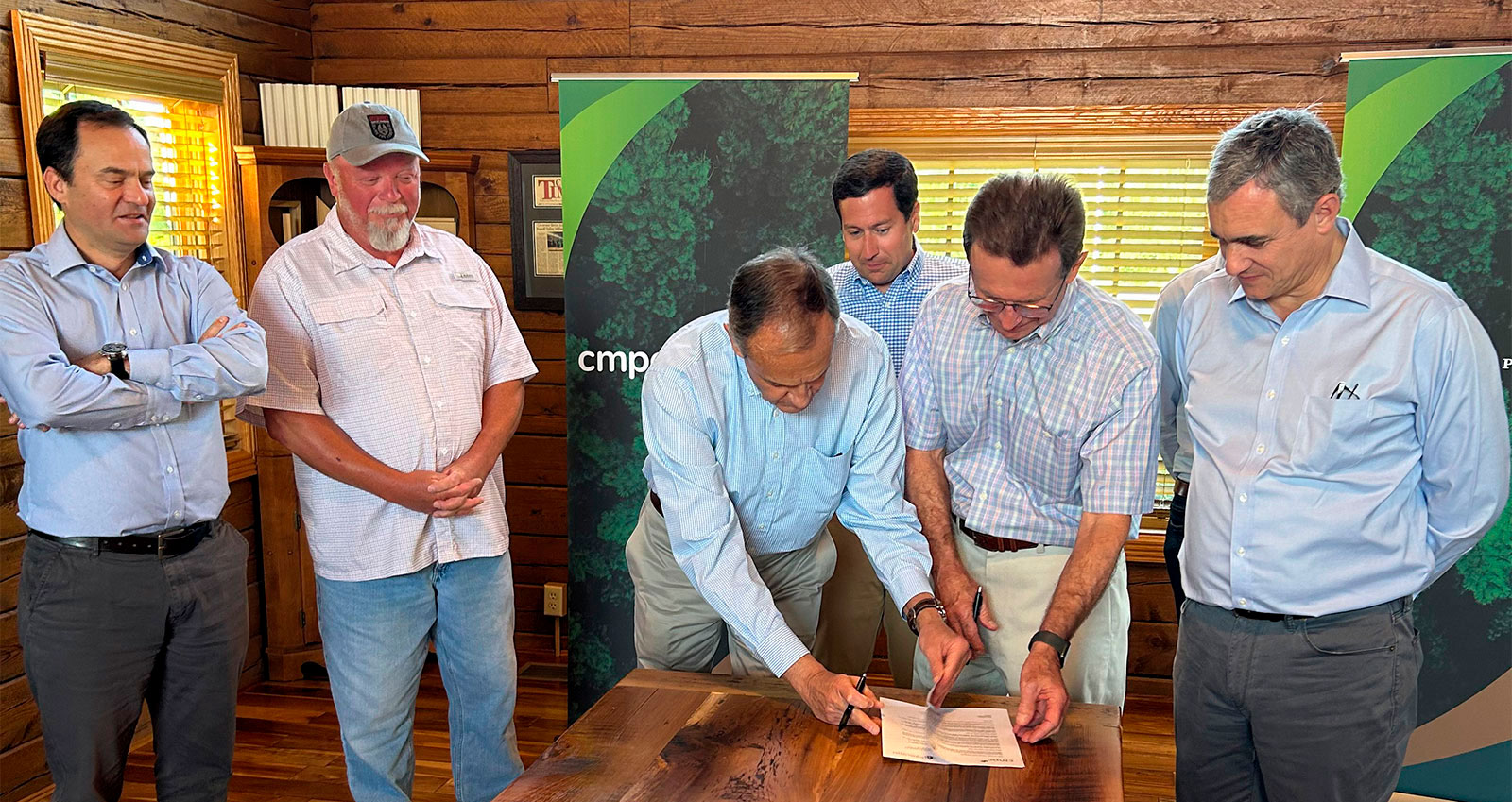 CMPC begins operations in the United States with an agreement to purchase a timber company
This past Wednesday, company Chairman Luis Felipe Gazitúa and CEO Francisco Ruiz-Tagle along with other executives signed the formal transfer agreement for the acquisition of Powell Valley, a company dedicated to developing remanufactured wood products.
After three and a half decades of commercial presence in the United States, this Wednesday CMPC Companies has agreed to purchase Powell Valley, making it CMPC's first industrial operation in that country.
CMPC Chairman Luis Felipe Gazitúa and CEO Francisco Ruiz-Tagle led the signing of a purchase agreement to transfer ownership of the US company located in the state of Kentucky with two factories dedicated to developing remanufactured wood products. One of the facilities is in Clay City and the other in Jeffersonville, both in the state of Kentucky.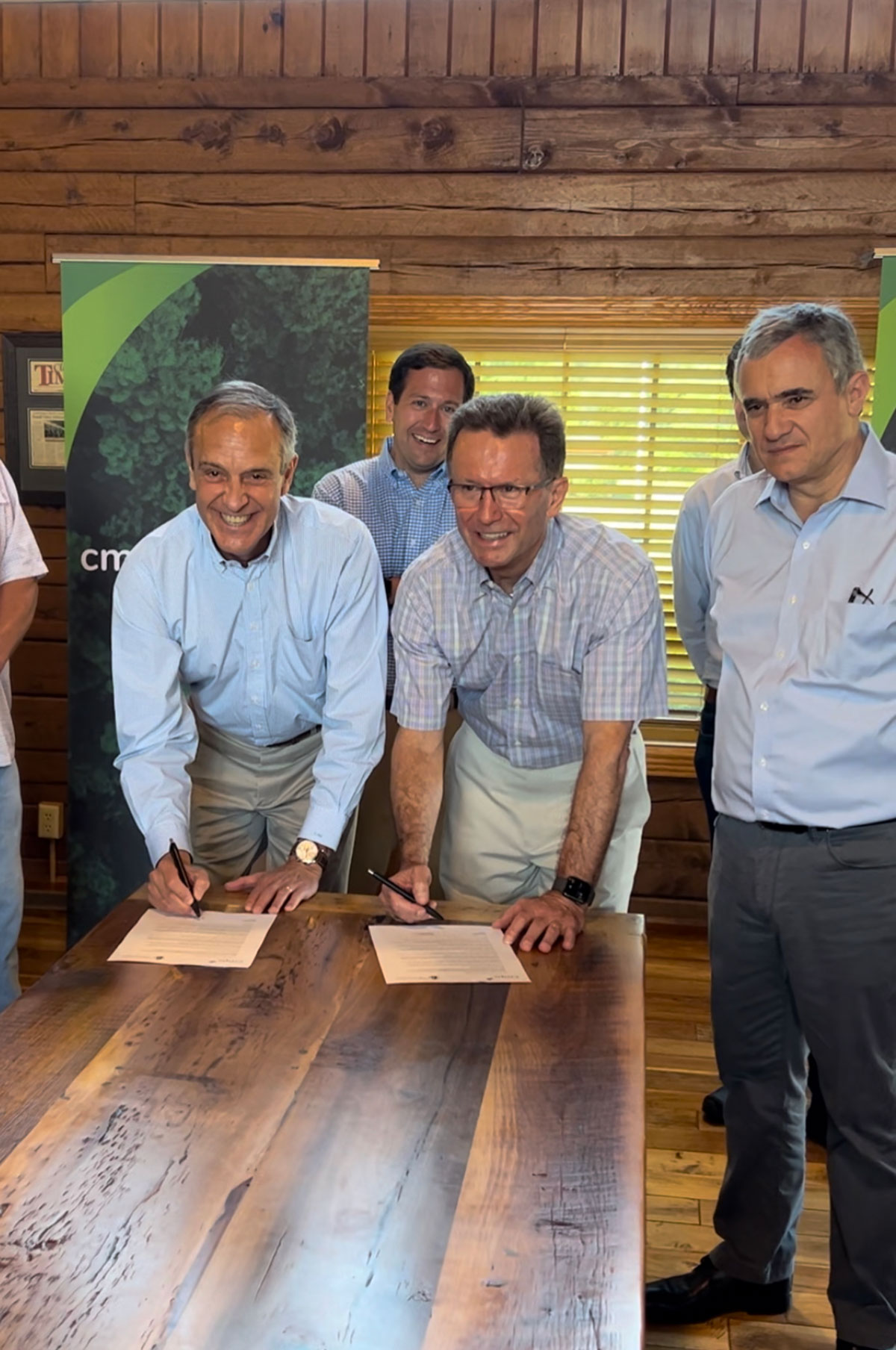 "This is a fundamental step in the CMPC Companies' history. Our products have been marketed throughout the United States for decades. Now we can produce them right there, utilizing all the experience and knowledge of a specialist company like Powell Valley," said Luis Felipe Gazitúa.
"CMPC's arrival at the Powell Valley property marks the start of an exciting new chapter for our company, and I'm pleased to share the news with our team, customers and suppliers," said Powell Valley President Jimmy Thornberry. "When my father and I started out in this industry in 1993, we had a mission to produce a sustainable building material by working with talented people from central and eastern Kentucky."
Powell Valley has just over 200 direct employees, mainly dedicated to making interior moldings and other wood specialties, such as blinds, stretcher bars and photo frames. The purchase will mean an outlay of about CLP 32 billion (USD 40 million).
"This investment decision is an important step in our strategic growth plan in the United States. This brings us closer to our customers in North America, which is a fundamental pillar of our strategic plan. At CMPC we are convinced that products based on natural fibers are the mainstay of the economy today and especially in the future," added Ruiz-Tagle.
CMPC registers annual sales in the United States of about USD 530 million, of which 40% are from the timber business. Likewise, for remanufacturing products, the North American country is the main market where 90% of our products are sent. 
"The CMPC Lumber business has had strong growth in recent years, aiming to deliver sustainable solutions with added value in different global markets and in the United States in particular. This step takes us closer to our vision of becoming much more integrated in the markets where we operate, complementing our product mix and serving them by meeting their requirements in an agile way," explained Juan Pablo Pereira, CMPC Lumber Business Manager.
In addition, CMPC has about 40 customers in the US market marketing its products at both the retail and industrial levels. The largest of these is Home Depot, supplying about 1,600 of its 2,300 stores nationwide. 
This purchase is in line with CMPC's decision to strengthen its position in the lumber business. Another example of this is the modernization project of the remanufacturing plant in Los Angeles in the Biobío Region of Chile and its recent entry into the mass timber industry through the company called Niuform wherein new technologies are being developed for wood construction. By having an industrial presence in Chile and the United States, CMPC also seeks to complement its product offer and respond more quickly and agilely to the requirements of its customers and consumers.
About Powell Valley
30 years ago in 1993, the Thornberry family founded Powell Valley in Lexington, Kentucky. 
Today led by Jimmy Thornberry and his son Michael, Powell Valley has two production units and covers a key segment of wood materials. They specialize in the manufacture of panels, moldings and frames among other wood products made from poplar.