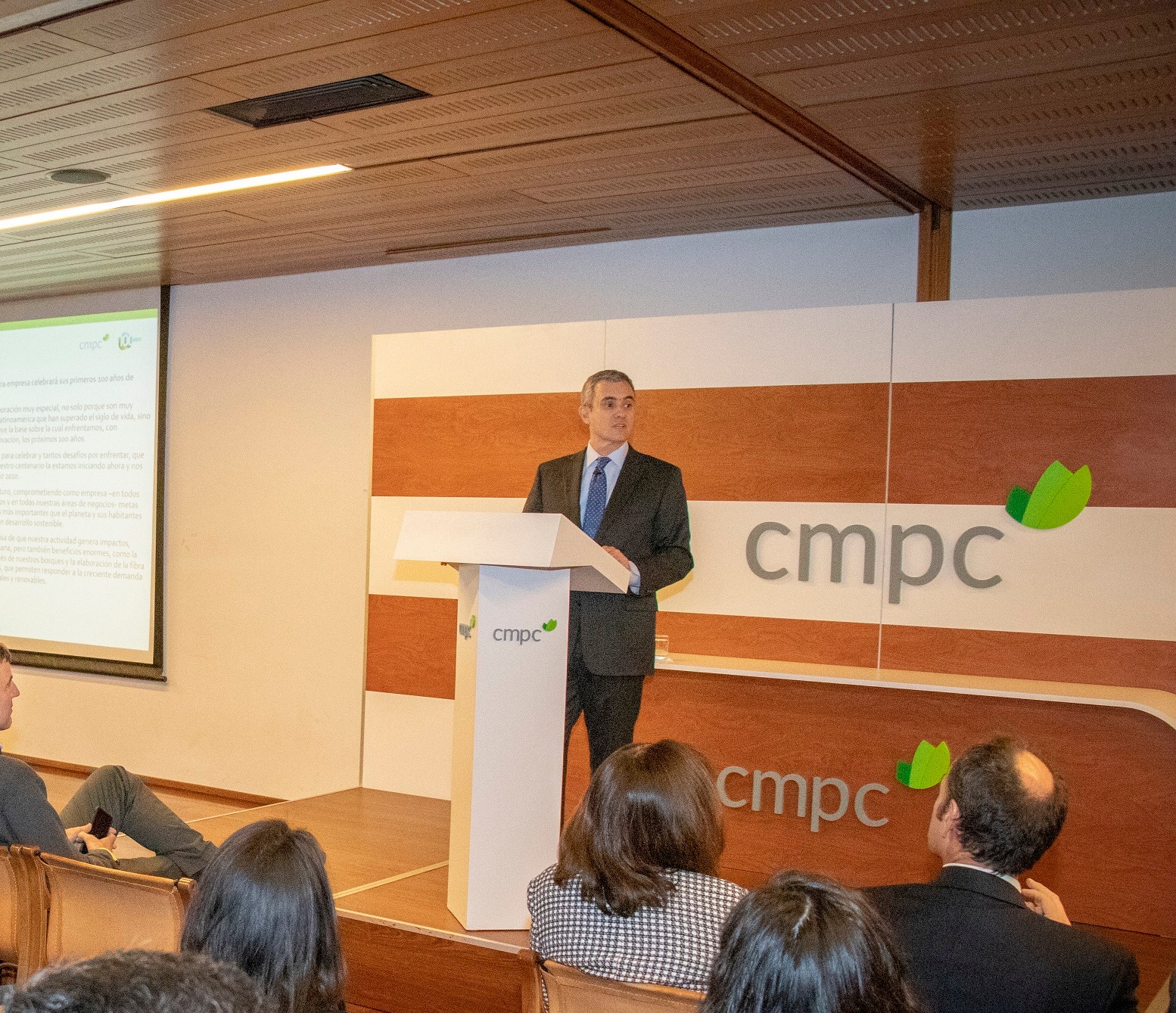 CMPC increases its climate mitigation goals
In March, 2020, the company will turn a century and "we are preparing it to be a sustainable operation for the next hundred years", explained CMPC CEO, Francisco Ruiz-Tagle.
In New York, on July 17, CMPC's CEO, Francisco Ruiz-Tagle, delivered a speech at  the United Nations as a follow up on the 2030  Agenda on Sustainable Development and its 17 goals. The top executive of the Matte Group company spoke on behalf of 11 forestry companies that participate in the World Business Council for Sustainable Development (WBCSD), a global organization that brings together the CEOs of more than 200 companies working on sustainability actions, among which CMPC and Masisa are the only Chilean participating companies.
On that occasion, Ruiz-Tagle submitted the roadmap set up by this group of companies – including giant companies such as Stora Enso and International Paper – including concrete actions, linked to the 6 priority goals in the Agenda, as for this sector it would be more effective in helping limiting global temperature increase by 1.5 ° C.
"We formally adopted those goals," said Ruiz-Tagle a month and a half after his presentation, seated in the office he started using just a year ago, when he stepped  as head of CMPC. He adds that this plan implies that not longer than the next ten years, by 2030, CMPC will transform the industrial processes of its 47 plants in 8 countries.
"The achievement of these goals by 2030 seems a cautious term. It is an important challenge that will require investments and changes in order to align them with the goal of dealing with climate change" the executive said in an interview with El Mercurio. He further added details about the way in which they will reduce gas emissions by 50% by 2030, focusing in pulp operations in Chile and Brazil; reducing water consumption by 25% in their processes by 2025 while in the same year completely eliminating waste disposal (sludge from the pulp and ash process) that they currently dump in landfills, something they already achieved in Brazil
To achieve this goal, the company will replace in the next five years fossil fuels by biomass, hydrogen or biogas; will proceed with the electrification of equipment and machinery; will introduce improvements and replace processes to make them more efficient; will renegotiate energy purchases contracts to make them  100% renewable; it will increase the recirculation of water in their processes, in addition to the 90%  return of the water they use; they will incorporate their processes waste into the circular economy, by means of manufacturing construction products, fertilizer and polymers.
In parallel, the CMPC's plan includes increasing the area of ​​forests designed for conservation and restoration by 100,000 hectares. This implies, says Ruiz-Tagle, that the company will reach 400 thousand hectares, an area equivalent to all the plantations they have in Chile indicating that this will not imply reducing productive assets.
"Next March the company will turn one hundred years and we are preparing it to be a sustainable operation for the next hundred years, this means environment, economic viability and social license. To achieve this, we need justifying the changes we will make and turn them virtuous, this is why all these sustainability plans will be an important part of CMPC's strategic definition and, its investments," says Ruiz-Tagle. Furthermore he adds that the impact of the commercial war on the company results, that in June reduced its profit by 50%, mainly due to the fall in the price of pulp, will not alter this decision as it responds to a long-term view of the business.
More details in the follow up article of El Mercurio