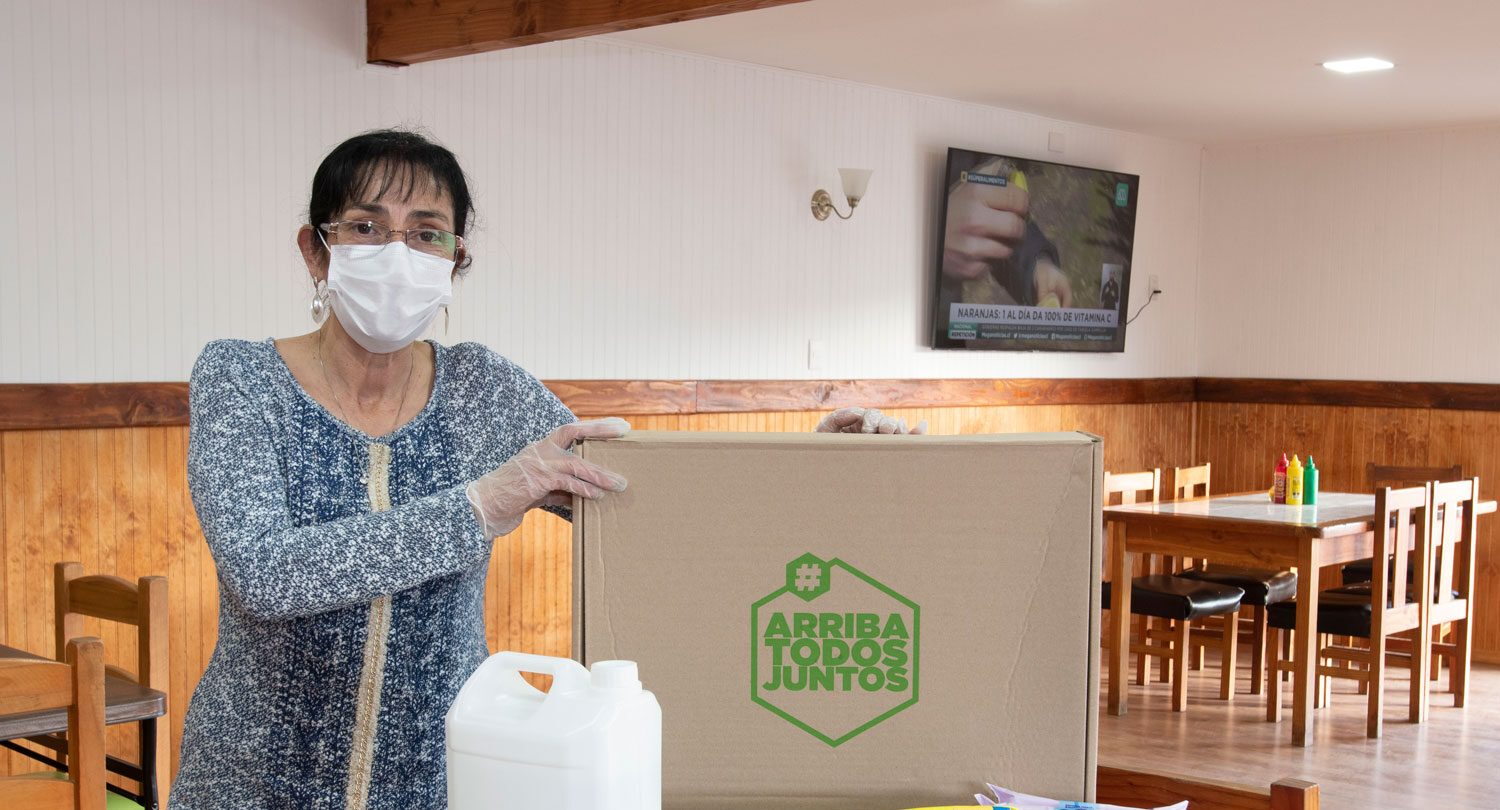 Owner of the restaurant "Donde Pitín": "We were not prepared for delivery service, but we had to reinvent ourselves in some way"
Loncoche is a town in the province of Cautín, in the La Araucanía region, 85 kilometers from Temuco, in southern Chile. Approximately 23,000 people live in it, and over the years it has been transformed into a fundamental location for tourists who love landscapes, hiking and national cuisine.
One of the most recognized places in Loncoche is the restaurant "Donde Pitín", inaugurated in 1998 and which owes its name to its founder Sergio Antonio Rivas, who passed away in 2015. Today the business is managed by his wife, Verónica Mella, who confesses that "the years have been so intense, that I feel that I have not been able to mourn my husband."
The "Pitín" is a "picada" (Chilean typical informal restaurant) of homemade food well-known in the sector and recommended by thousands at the time of having to give indications of places to frequent. A place that even in 2014 won the award for the best "picada" in La Araucanía, awarded by the National Tourism Service. Its beef "cazuelas", corn cakes, legumes, pork chops, pea lambs and chicken fillet captivate any customer who visits it. 
"Pitín was a very nice, charismatic man, a good friend and spontaneous. Everyone knew him for those attributes, it was not news to see so many people in the restaurant. People´s recommendations were what made us grow, and I owe it totally to my husband, because it was thanks to his way of being with the rest that he fulfilled his goals" says a proud Verónica Mella.
The beginnings of the restaurant took place in a modest house, rented by the Rivas family. It was there that Sergio "Pitín" Rivas entered the world of gastronomy. "He grew up in that environment. His mother was the owner of a bar in the bomb station and he was good for cooking and for barbecues just by blood. He always liked it", says his wife.
After an inheritance from his grandparents, a house of around 30 years in Loncoche, "Pitín" decided to build his own restaurant in it. With the help of his mother and a lot of friends, they began to remodel it, inside and out, starting to operate in 2000. "In those days people didn't go to restaurants that much, and those were hard times. But as time passed, and thanks to the recommendation of all the friends that "Pitín" had, we managed to grow and today we are known throughout Loncoche", explains Verónica.
Today, the restaurant "Donde Pitín", thanks to the efforts of Verónica, who had to maintain the business after the sudden death of its founder, has two large terraces, a second floor and large spaces to receive up to 150 people in one day. However, the Coronavirus pandemic has made things a little bit harder for it, so this restaurant had to change the way it sold its dishes in order to keep operating. 
"We were not ready for delivery service, but we had to reinvent ourselves in some way. We started selling 8 snacks when we used to sell 250. But after a month we started selling up to 50 and that helped me to pay the two girls I work with. Little by little our sales started to go up, but it was not enough. We needed to return", she confesses.
That is why Verónica is one of the beneficiaries of the Arriba Todos Juntos program, by which, in the first phase of the initiative, she received her sanitary kit to be able to have all the hygiene and prevention measures necessary to be able to reopen the restaurant´s doors . 
"Since August we are already operating with capacity for 20 people on the first floor and 40 on the second. It is 25% of the total that we can cover, and although it is not so much, it helps us to be able to maintain ourselves and that our workers are well. We need to take care of ourselves, be responsible and respect the rest so that together we can keep on going", she says, to which she adds "thanks to this donation from CMPC we can benefit greatly to serve our clients in accordance with all the sanitary measures that have been settled down. We appreciate it infinitely".