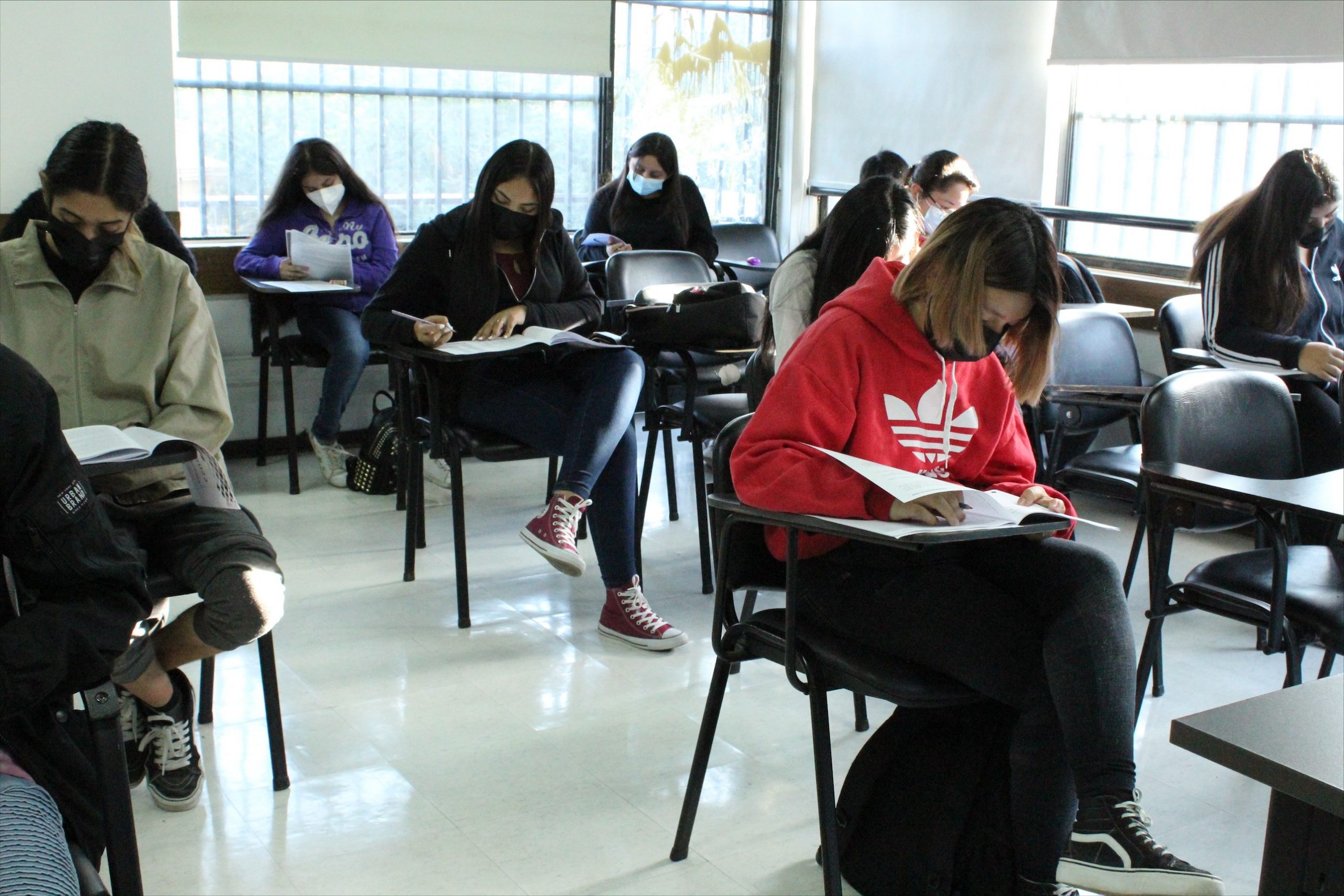 More than 200 students in 11th and 12th grade have taken part in Puente Alto's free pre-university program.
In 2021, 80% of the students who participated in the Higher Education Entry Training School (EFIES, for its acronym in Spanish) program, promoted by Formando Chile (Educating Chile) and CMPC were able to enter higher education.
As Nicolás Alvial entered his senior year, he realized how wrong his decision had been to skip classes for the entire previous year. The pandemic, the flexibility of online classes and other reasons had made him confident enough to simply not attend. "Since I did not connect to classes and I always did everything at the last minute, when I entered my senior year I thought, 'What do I do now?' I am going to have to take the test and I do not have a lot of information. I urgently need a pre-university course," he said. 
Worried, he began to look for options until one of his classmates told him about the Higher Education Entry Training School (EFIES), a free pre-university program in Puente Alto. "EFIES gave me hope that I would be able to get a good score on the PDT and get into the degree program I wanted," the student explained. 
Like Nicolás, there are more than 200 young people from the municipality who since 2019 have found a fundamental support in the program, an initiative of Formando Chile and CMPC that has achieved that more than 80% of its students from Puente Alto enter higher education. 
EFIES is a free comprehensive pre-university program that seeks to increase the possibilities of access to university, technical education or professional institutes for students from difficult backgrounds. The program has no academic selection, the only requirement is to be or have graduated from a municipal or subsidized school, with a school Vulnerability Index greater than 70%.
After participating in the free pre-university program, Nicolás achieved the degree he had always wanted: Architecture at the Universidad Católica. "The pre-university program was essential for me. It helped me a lot, especially to recognize what I needed to learn and what I needed to reinforce," he said. 
In 2021, 37 students took part in this pre-university program, of which 24 entered university degrees and four entered technical degrees. 
Constanza Celis is another of the students who participated in the pre-university program that same year and was able to study kinesiology at the Universidad Autónoma. "The pre-university was a very good experience for me, especially because they taught us a lot of subjects that I had trouble learning at school. I learned a lot," explained Constanza.
Francisco Torrealba, Assistant Manager of Public Affairs at CMPC, said, "For us as a company it is essential to provide tools and resources to be able to level the playing field for students when choosing where to study, regardless of what sector you are from or what school you came out of. Being part of the challenge of improving education and access to it is crucial for people's development." 
For his part, Pablo Hormazábal, director of Formando Chile, emphasizes that the partnership with CMPC has been a very good opportunity to have an impact on students in the Puente Alto municipality. "We have been working together for three years now and we have seen a strong demand for the program. There are many students with a lot of commitment, motivation and ability, but unfortunately, they do not have the tools to be able to supplement all the education they receive at school. In Formando Chile it is key for us to provide comprehensive tools, because we know that the transition to higher education is not only an academic development, but that there is a fundamental socioemotional and vocational aspect," said Hormazábal.
Continuous Education Program
The work of the pre-university does not end with entering higher education. Once students begin their studies, they are eligible for a Continuous Higher Education program, which seeks to support EFIES pre-university graduates throughout their first two years in higher education and to enhance student retention.
Hormazábal explains, "Through Formando Chile's years of experience and the number of students who have gone through the program, we have realized that there are two challenges. One is entering higher education itself, which we cover in the EFIES workshop, and the other is that students can enter and remain in the degree program of their choice."
This year the program includes almost 100 former pre-university students who voluntarily decided to be part of the continuous education program. This includes academic support in the subjects that the student wishes to be supported, socioemotional support and group workshops on cross-cutting issues such as, for example, stress management.
"EFIES helped me a lot to study for the test, but more than anything it helped me to know what I wanted to study. I was very lost and the support workshops helped me to determine what I liked", commented Constanza Yáñez, a student who benefited from the program in 2021 and who began studying Illustration at the Arcos Institute.