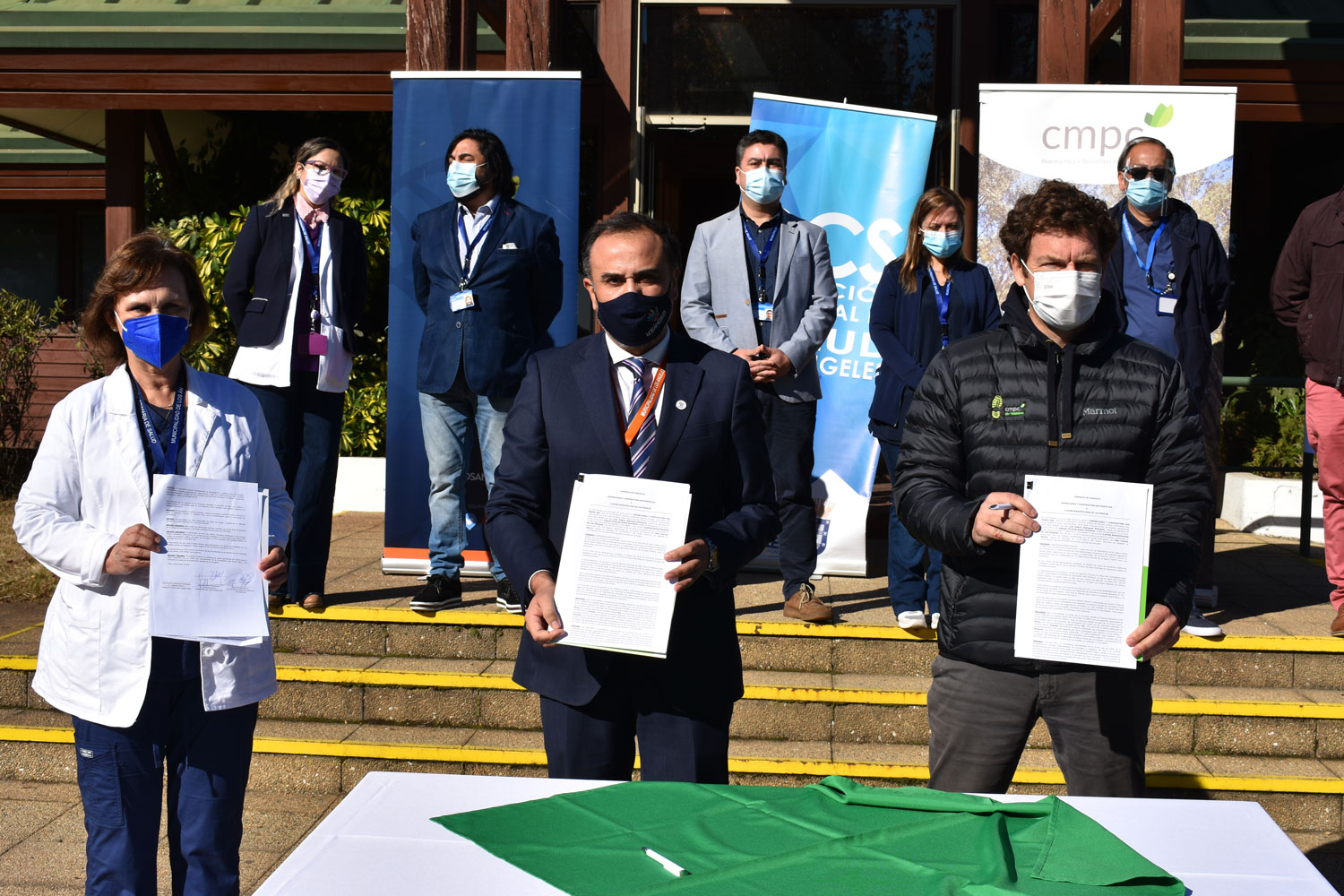 Former CMPC offices in Los Ángeles will be used as a multi-vaccination center for coronavirus and influenza
 "Ideally all of the families will get vaccinated so we can achieve herd immunity as soon as possible and hopefully this pandemic will be over soon, since it has caused a lot of complications for some of us independent workers," was the request made by independent worker Alejandro Troncoso, one of the first people vaccinated at the new multi-vaccination center in Los Angeles. Troncoso had Covid-19 in 2020 and was too ill to meet his newborn for the first two weeks of his life. This experience encouraged him to get vaccinated.
Setting up facilities at the new center was made possible thanks to an agreement signed between the Municipality of Los Ángeles and CMPC, who made their former Forestal Mininco offices available. The agreement was celebrated this Wednesday in a ceremony in which CMPC Corporate Affairs Manager for the southern zone Augusto Robert, Deputy Mayor of Los Angeles Raúl Fuentes, and Community Health Director Marta Aravena were in attendance. 
The mayor of the community solicited the population to come get vaccinated and thanked the company for the initiative. "They've always been available to help out the community and the Municipality of Los Ángeles," he said. 
He also explained how the agreement would function. "This is an agreement that was made four months ago, but it is renewable and will continue as long as necessary."
Community Health Director Marta Aravena pointed out that more of the public has been coming in as of late and added her words of appreciation. "It gives us an opportunity not only to vaccinate against Covid-19 and influenza, but also to get schoolchildren up to date who were left out of last year's school vaccination campaign due to the closure of schools and establishments where they are normally vaccinated," she said. 
The new multi-vaccine center will also cover all of the school vaccinations. Specifically, first graders will get the triple virus shot (measles, rubella and mumps), DTP (diphtheria, tetanus, and pertussis) will be given to first and eighth graders, and HPV (Human Papilloma Virus) vaccines will go to any fourth and fifth graders that are behind schedule for 2020.  
Karla Hermosilla went to vaccinate one of her school-age children. She also had Covid-19 last year and is now vaccinated for that virus as well as for influenza. Karla is a teacher and said that if she could, she would also vaccinate her children against Covid-19. "I advise anyone who values their life and their family to come to get vaccinated, since it makes us feel as if we are more prepared to deal with the virus," she said.   
This is not the first time that CMPC has put its facilities at the disposal of the authorities. Last year, they served as a field hospital for low and medium intensity patients, which helped decongest hospital centers in the region that were focused on Covid care.    
That is how Augusto Robert explained it. He said, "This building, our former offices, were used as a field hospital for almost a year on loan to the health service. That has finished, so we are making an alliance with the municipality of Los Angeles to set up a multi-vaccine center. We understand that this loan will be in force for the next four months, but we'll of course be assessing the winter vaccine drive, which is always more complex."
The new multi-vaccine center is located at Avenida Alemania 751. The hours are Monday through Friday from 9:00 AM until 4:00 PM and Fridays from 9:00 AM until 3:00 PM. The schedule may change from week to week. 
This initiative is part of the numerous actions that CMPC has undertaken to contribute to the national vaccination plan for Covid-19 and Influenza. An example of this are the mobile clinics that the company set up together with Desafío Levantemos Chile and traveled to various locations in the Biobío and La Araucanía regions to vaccinate teachers, the elderly, people with disabilities, chronic diseases or any neighbor with mobility problems.