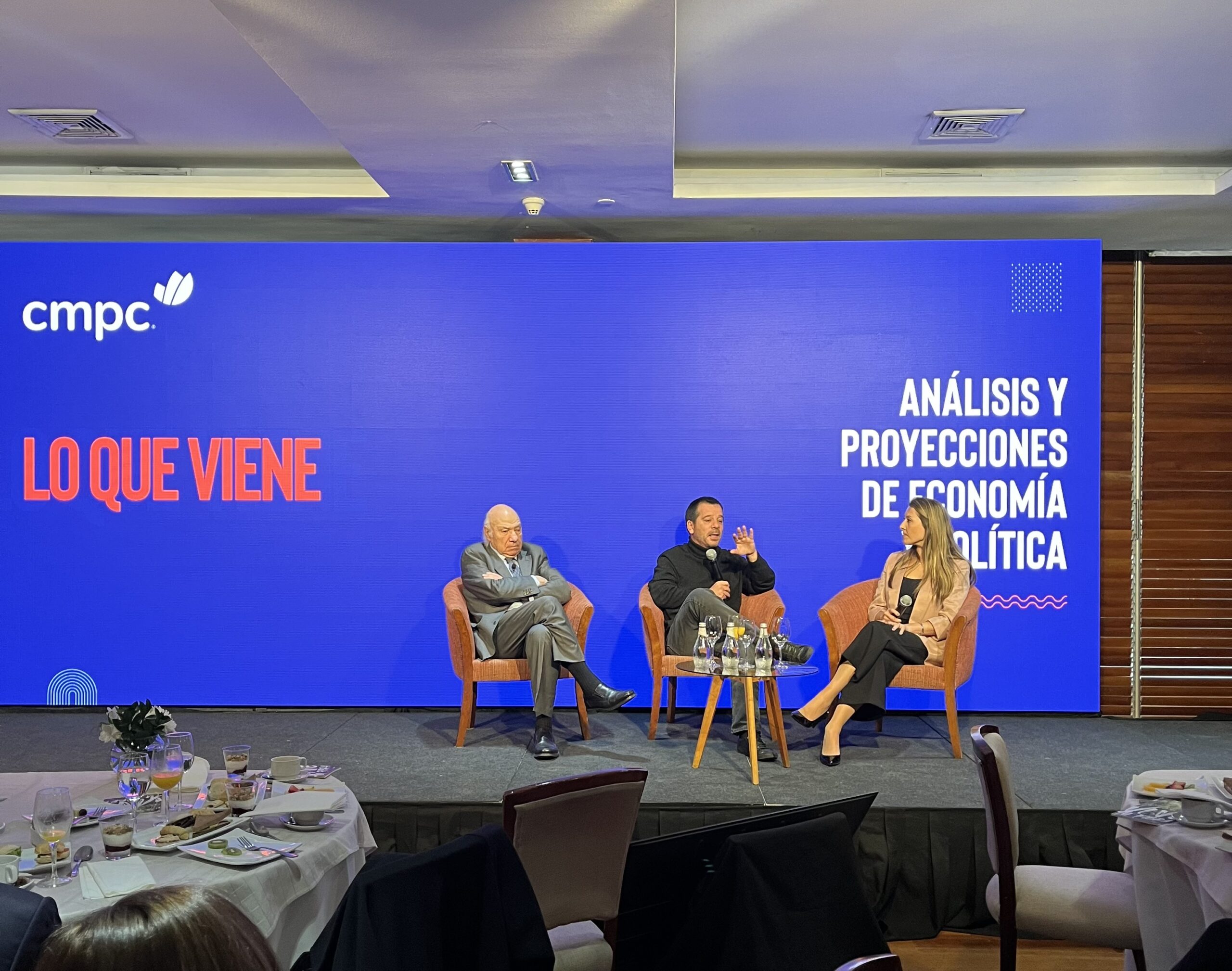 "The tax on retained earnings and the wealth tax have to be eliminated" said Vittorio Corbo, former Central Bank President
The current economic and political situation were discussed at the meeting that CMPC holds annually. It included the participation of former Central Bank president Vittorio Corbo and the lawyer and analyst Jorge Navarrete.
This Friday CMPC held its customary event to address the political and economic news of the country and future projections. On this occasion, former Central Bank President Vittorio Corbo and the lawyer and analyst Jorge Navarrete both gave presentations.
Vittorio Corbo provided a summary of the national and international economic contexts and then offered some projections. In his presentation, he argued that one of the key issues for the future should be to get back on the path of economic growth, pointing out that there are certain tax burdens that should not exist. "Any reform that is made in Chile has to concern itself with promoting the conditions for growth, which requires creating the right conditions for savings. That implies that the tax on retained earnings has to go, as does the wealth tax. We have to concern ourselves with increasing savings," he said.
The former Central Bank president also shared his projections on the Central Bank's Monetary Policy Rate, calling for common sense. "I think it's going to start going down for sure. I would prefer it to be 0.5, although we won't get too excited until we no longer have an inflation rate clearly approaching 3%. But 0.5 is a done deal (…) I hope that rates will continue to fall, but let's not uncork that champagne just yet because we have to wait for this trend to consolidate."
After Vittorio Corbo spoke, it was Jorge Navarrete's turn, a lawyer and columnist, who gave a political analysis of today's Chile in his talk "Political moment". He discussed President Gabriel Boric's government, the contingency/risk? facing the political parties as well as the constitutional process underway in Chile.
It was precisely the last point that Navarrete reflected on regarding the plebiscite to be held December 2023, wherein the citizens of the country will have to decide whether to approve or reject the constitutional proposal drafted by the advisors. "All the polls show us that, if put to a vote on Sunday, rejection would carry the day once again. This won't be any third time's the charm scenario. If we fail, it's over. And of course, last time when the process began, 70% initially wanted to vote for approval, and we know how that turned out. You might say, alright that's reassuring because it means we could turn it around, too. But it's not so easy in this case because politics is in general disrepute. There is a gulf separating it from the citizenry who are tired of and bored with this whole issue."
"At least three conditions must be met for the approval to win. There must be dialogue, a conversation, a discussion similar to what we had with the Committee of Experts that will need to be very unlike the previous process. Secondly, that everyone feels they gave in somewhat, and did so on something that they had preferred to be the final outcome. Thirdly, figuratively speaking, is to have Boric and Kast united in their call for this document to be approved. If any of those three things don't happen, we will most likely have to deal with another failure," he said.
The meeting was attended by company Chairman Luis Felipe Gazitúa and CEO Francisco Ruiz-Tagle as well as different representatives of the trade and business worlds, including the CPC President Ricardo Mewes along with CMPC executives and suppliers. After both speakers had finished presenting, a round of questions and answers was held in which the participants offered their points of view with respect to the presentation.