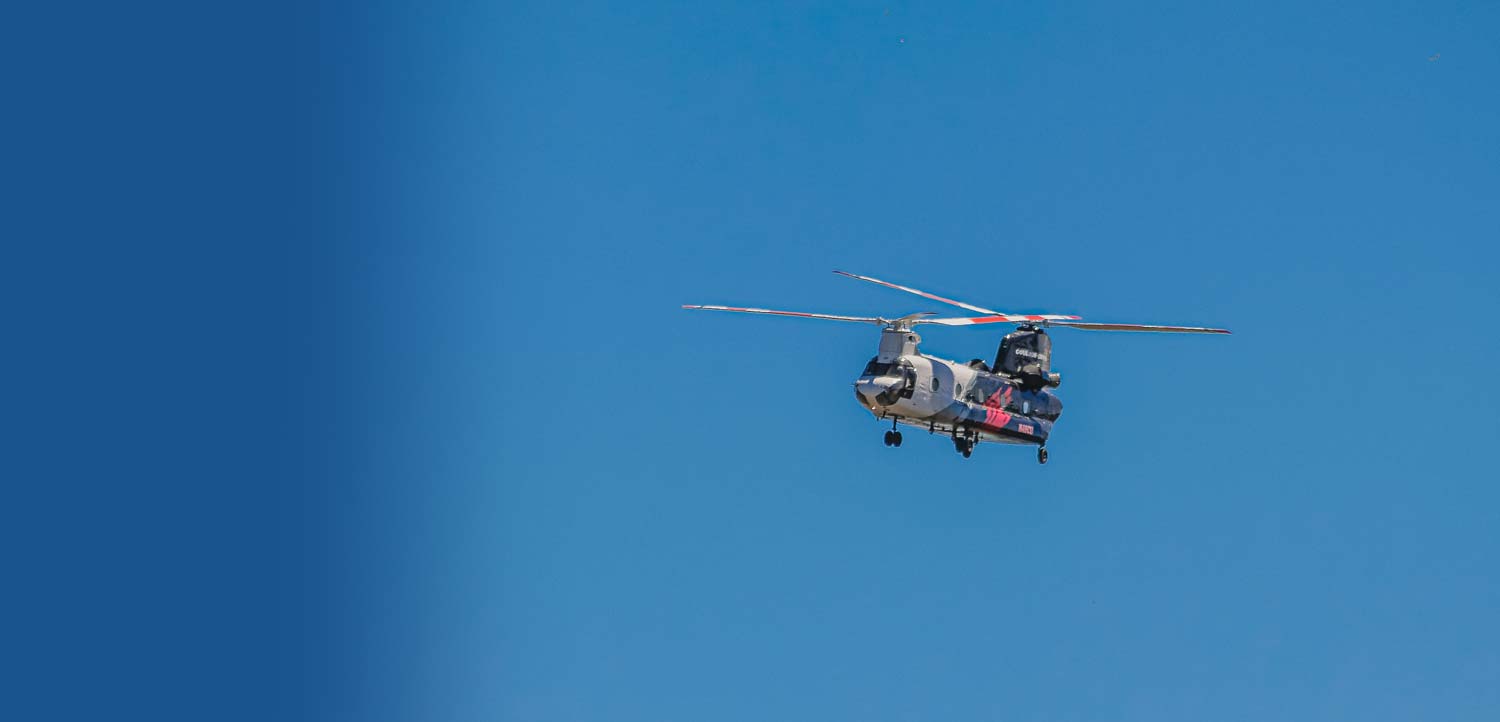 Effective precision Chinook mega-helicopters arrive to Chile to fight wildfires
It can fly for 2.5 hours without stopping, drop 10,000 liters of water via its Bambi Bucket at a 60-meter elevation while doing its job of inundating highly complex fires with water or foam. The Chinook mega-helicopter has become absolutely essential for fighting wildfires due to its efficacy and precision levels.
This is why CMPC has brought the giant craft to Chile for the fourth consecutive season to be part of the company's fire-fighting force in the central-south area of the country. The helicopter measures 30.2 meters long (the length of a basketball court), 4.8 meters wide and 5.7 meters high. 
But this time there will be two Chinook instead of one. These "siblings" will operate out of the CMPC aviation bases in Trilahue (Biobío Region) and Angol (Araucanía Region) where they are already prepared to start the fight to control any fires that may affect people, housing, terrain of high environmental value, agricultural zones, industrial complexes and CMPC property.
More than 1,000 firefighters, 19 aircraft and cutting-edge technology
The two Chinook will join the rest of the CMPC fire prevention and fighting force comprised of more than 1,000 firefighters and another 19 aircraft (two Tecnam P2006T coordination airplanes, nine AT-802 air tankers with a discharge capacity of 3,000 liters of water per plane, and eight medium Bell 212/412 helicopters with a 1,200 liter Bambi Bucket on each one).
Additionally, the company has state-of-the-art prevention systems able to monitor and detect fire hotspots, can coordinate firefighter team dispatch with greater efficiency, and more. Other tools include drones, infrared and optical cameras, semi-automatic detection cameras with 24-hour operation, the Wildfire Analyst software that helps simulate the behavior of a fire under a range of scenarios, and a control room located at the CMPC corporate building in the city of Los Angeles in the Biobío Region.
Central Brigade to protect the metropolitan forest
Highly adverse climatic conditions such as an extended mega-drought, rainfall shortage and high temperatures predicted for this summer are a few of the indicators that the 2020-2021 wildfire season will be more challenging than past years. This has the whole country concerned, but especially the Metropolitan Region since due to the aforementioned conditions and the fact that its sclerophyll forest – unique in the world – is in danger. 
This is why CMPC has provided a team of highly experienced firefighters called the Central Brigade. They will utilize a 2,000 liter fire truck for fire prevention and fighting activities in interface zones, hills and parks in the capital.
Their base is situated at the CMPC Estadio Papelero (stadium) in the Puente Alto neighborhood at the service of the National Forest Corporation to help fight fires whenever needed. 
Furthermore, the Central Brigade will be participating throughout the summer in fire prevention activities together with the community in order to educate people on how to prevent fires and what to do in the event they occur. It will also be working on prevention projects such as firebreaks. These measures will be carried out on various hills and in parks in the Metropolitan Region. 
Protecting native forest with Fundación Reforestemos
Native flora represent more than half of the land biodiversity of the planet. This helps protect land, purify air and ensure water availability as well as combat the effects of climate change.
However, native forests in Chile have been effected by rural fires. Fire is a real threat to all species, especially those that are at risk of extinction.
This is why as of 2017 after the mega-fires CMPC and Fundación Reforestemos created an alliance, which was kicked off when the company provided the Foundation with 500,000 native species to help reforest and recover areas of great ecological value. 
Fire prevention took on a leading role in 2020 within the initiatives lead by this alliance, committing to concrete assistance to projects that promote education and training around fire prevention as well as projects related to building infrastructure and outfitting forest fire-fighting teams.
Additionally, both parties are working together on the "Support project for restoration, protection and fire prevention at the Nonguén National Forest Preserve (Biobío Region) and the Cerro Ñielol Natural Monument (Araucanía Region)".
In terms of educating citizens around fire prevention, during the current summer season CMPC and Fundación Reforestemos have held activities together with the Central Brigade and the community of the Metropolitan Region.