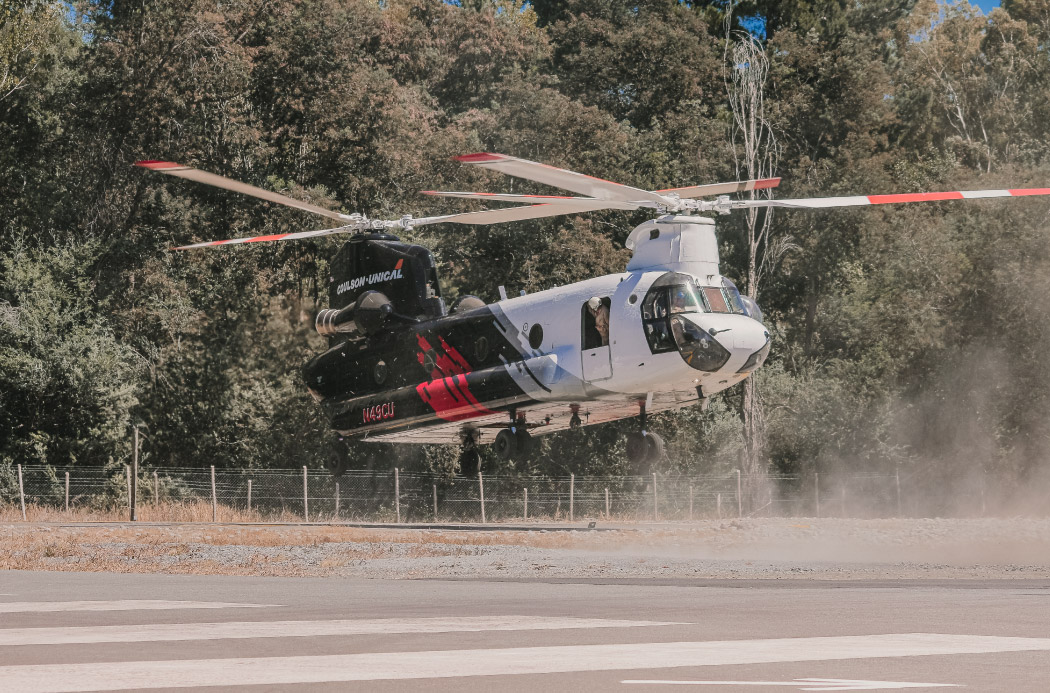 CMPC's Chinook mega-helicopter fights two wildfires in the Biobío region
This Monday January 4th the aircraft made its first interventions since arriving to Chile last week in the communes of Hualqui and Los Angeles. Its efficacy and precision plus the hard work of the company's team were able to contain both threats.
It can fly for 2.5 hours without stopping, drop 10,000 liters of water via its Bambi Bucket at a 60-meter elevation while doing its job of inundating highly complex fires with water or foam. The Chinook mega-helicopter has become absolutely essential for fighting rural fires due to its efficacy and precision levels.
The aircraft housed at the CMPC airbase in Trilahue to await calls to action was brought in to fight two  wildfires in the Biobío region. The first was in the commune of Hualqui and the second in Los Angeles, both of which have been contained. Now they are working on reinforcing fire lines and clearing active areas.
Six medium-sized helicopters, six air tankers and 120 CMPC firefighters also joined the fight.
This is the third consecutive summer season that CMPC has brought the Chinook mega-helicopter to Chile, although it won't be just one this year. Another is on its way. The one currently in use arrived last week.
The Chinook mega-helicopter measures 30.2 meters long (equivalent to a basketball field), 4.8 meters wide and 5.7 meters high. Both aircraft will be available for fighting fires in interface zones where it best operates. This includes third-party terrain, residential communities, areas of high environmental value, agricultural zones, industrial complexes as well as CMPC property.