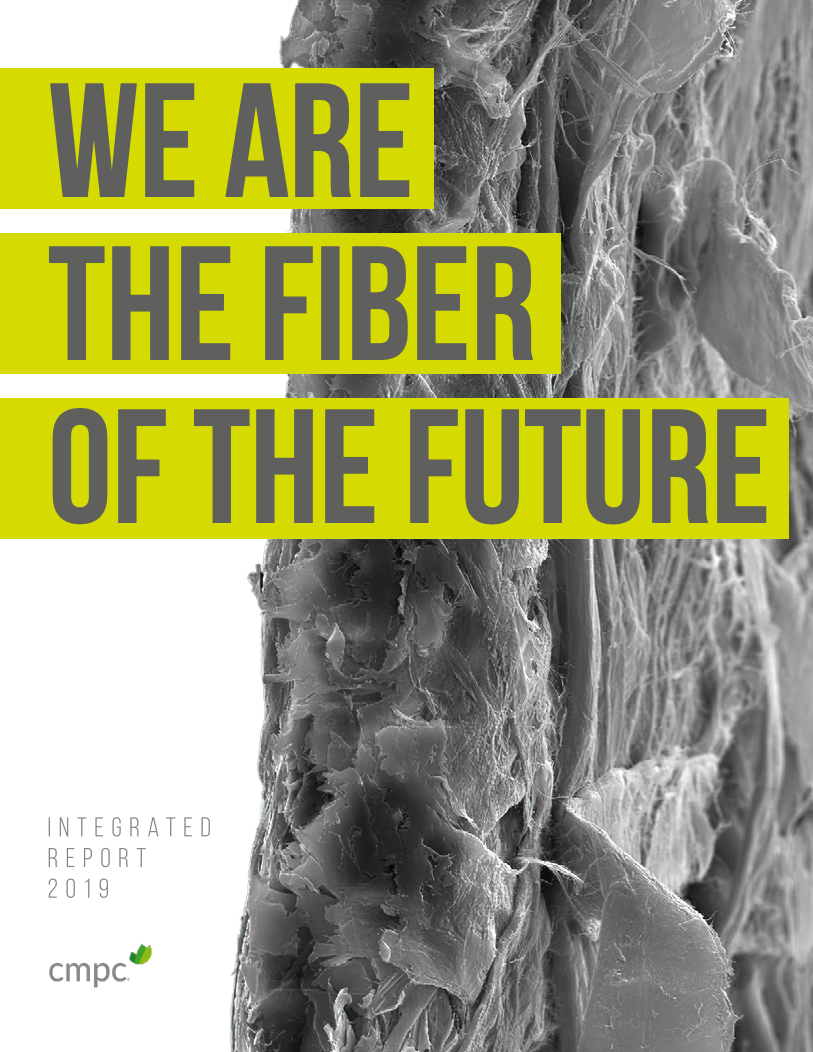 Check over here the launch of the CMPC Integrated Report 2019
Check over here the 2019 Integrated Report of Empresas CMPC. In this new document you will be able to find out more information about the Company, such as the outstanding facts and cases, its financial statements, the main environmental and community actions, among other information regarding last year.
Watch the video of the launch of the Integrated Report held on July 2nd, 2020, and presented by the CEO of CMPC, Francisco Ruiz-Tagle
CMPC CEO: "Society expects companies to play a key role in the economic recovery, continuing to operate and provide salaries is not enough"
This past Thursday, July 2, Francisco Ruiz-Tagle, CEO of Empresas CMPC, launched the company's Integrated Report 2019 and presented its main results.
At the event, attended via video conference or live streaming by close to 1000 of the company's clients, suppliers, directors, executives and collaborators from a variety of countries, the CEO said that "CMPC's more than 100 years of existence are a reflection of how we have been able adapt to the requirements and needs of society, while also being mindful of the dependence of our business on natural resources, the environment and their protection. Operating for the next 100 years would not be sustainable for us without the efficient use of resources and circular business models".
He also talked about our Value Creation Model, indicating that "our commitment to sustainability is embodied in it, in the use of renewable resources to develop essential products for people, which can not only be recycled and reused, but also contribute to the environment through carbon capture".
In terms of the future prospects for sustainability, he noted that "as a result of the events that occurred between 2019 and 2020, society expects companies to play a key role in the economic recovery, as continuing to operate and provide salaries is not enough, and what is more, companies are expected to do it in a sustainable way. That is why CMPC has to get involved and play a leading role in the coming years for both the company and society's sake".
Another participant in the launch of our Integrated Report was Peter Bakker, President and CEO of the World Business Council for Sustainable Development (WBCSD), who delivered the opening remarks, congratulated CMPC on its anniversary and said, "this year has become a turning point for the future as a result of the COVID-19 virus. It showed us how fragile both human life and our planet are. Today we can see that companies cannot be successful if they are not aware of this matter. We have found that companies that take sustainability seriously do better than companies that don't. That is why, we must make a change today and now".
At the end of the event, a round of questions and answers was held, where attendees had the chance to have their concerns addressed in real time by the presenters.
CMPC's Integrated Report 2019 was published last April in Spanish, English and Portuguese, and contains highlights, financial statements, and a summary of the main environmental and community engagement actions, among other information on the company's performance over the reported period. 
Some examples of the data points included in the document are that 90.3% of CMPC's own forest assets are certified for sustainable management; that the company's energy mix includes a large portion of non-conventional renewable energy from biomass as its main source, accounting for approximately 79% of total energy self-generation; that CMPC recycles 604 thousand tons of paper and cardboard per year; the four sustainable development goals that the company committed to, namely to reduce absolute greenhouse gas emissions by 50% by 2030 and industrial water use per metric ton of production by 25% by 2025, as well as to become a zero waste to landfill company by 2025 and conserve, protect and/or restore an additional 100 thousand hectares by 2030 to be added to the already existing over 320 thousand hectares of the company in Argentina, Brazil and Chile.