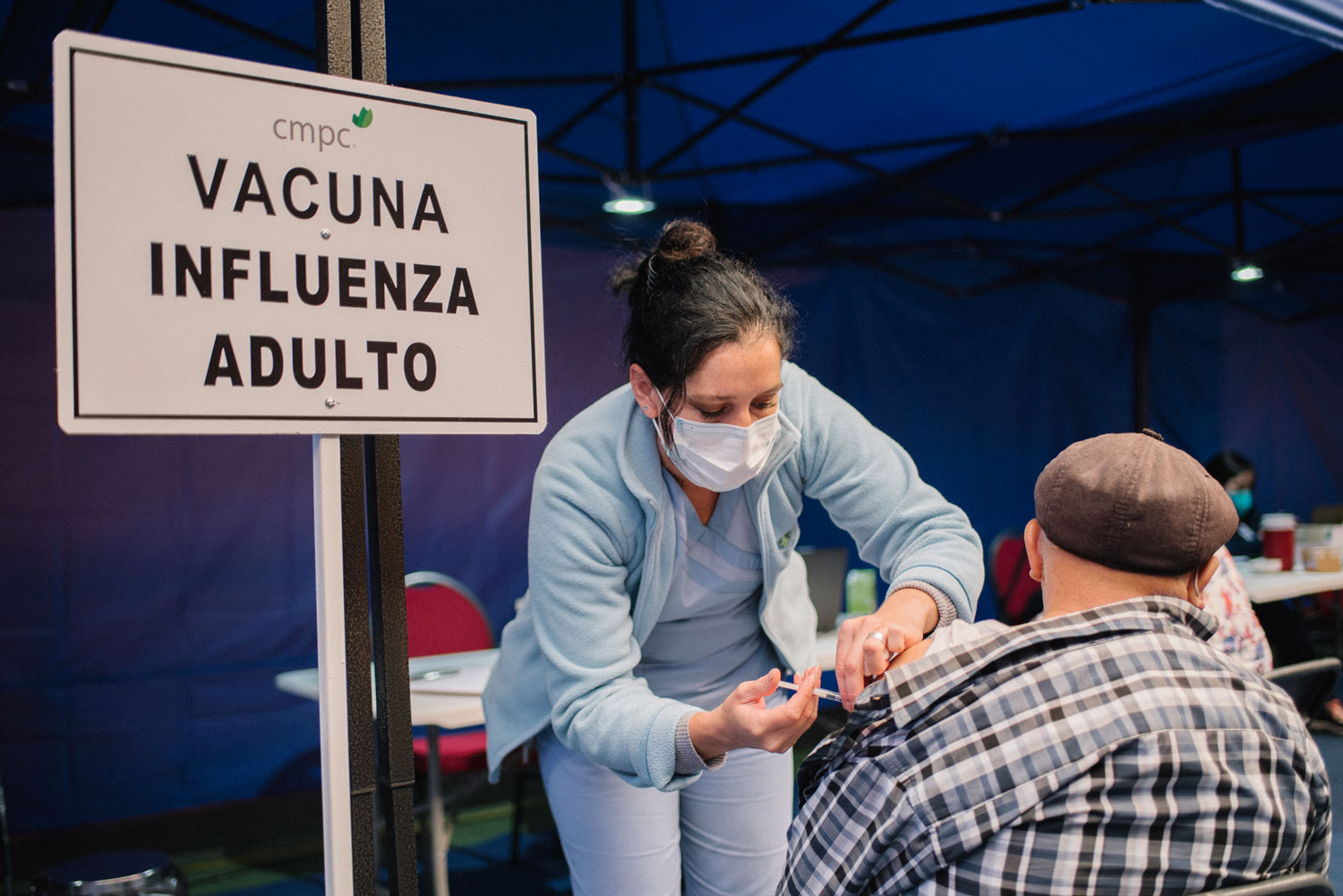 Health emergency: mobile clinics and a new vaccine center join the fight against coronavirus and influenza
"I was dragging my feet, but now I'm convinced that this vaccine is important for everyone in order to stop this pandemic affecting us," said José La Regla, a resident in the Nacimiento neighborhood after going to the new vaccination center in the CMPC Santa Fe plant's gymnasium. It was specially equipped with all the required sanitation measures to help prevent the spread of Covid-19 and now also the flu.   
This new initiative will run until June. It's part of the battle that was started two months ago with mobile clinics that are fully equipped to take health personnel to rural and hard-to-reach areas in the Regions of Biobío and La Araucanía. 
So far the mobile clinics have administered COVID-19 injections. Last week they made a new commitment to include the flu vaccine. 
"We at Desafío want to find the most efficient solutions for every corner of the country. This is why we think it's important to help speed up the vaccination process for both COVID and the flu. We are proud of the work we've been able to do during the pandemic thanks to the abiding support of CMPC. Bringing progress to Chile is everyone's job," said Desafío Levantemos Chile, Nicolás Birrell.
CMPC Supervisor of Public Affairs for the central region, Didier Cares, said, "We as a company have played an active role in supporting our neighbors from the very start of the contingency both in terms of COVID and now influenza vaccines. This is why we've made mobile clinics available that will help people with mobility challenges. We've donated face masks and support city sanitation, which we've begun doing again." 
Mobility is one of the primary challenges for people living in rural areas in southern Chile. For this reason, the mobile clinics serve to unveil a key mission for protecting elderly population's health and those with disabilities, chronic diseases or transportation problems.  
"This is the best initiative they could have undertaken because if you look around (shows the room where they are), there are people over 90 years of age here and most of them have chronic diseases. Taking them elsewhere is risky because they can get infected. I think it's very valuable that they are coming here to vaccinate them," said Roberta Astete who's been caring for her senior family members during the pandemic. 
New facilities
Prior to the new coronavirus infection peak and the arrival of the cold, rainy season, the option to use the sports center at the CMPC Santa Plant as a vaccine center arose. 
The company made this space available to the health authorities. A number of measures were taken to make sure it was set up properly, such as adding an internet connection, demarcating spaces, creating signage, shoe disinfectants, hand sanitizer dispensers as well as tables and chairs for people waiting.
Biobío Health Service Director Fernando Vergara said, "CMPC rose to the challenge of the Health Service once again. First, they helped us with the Los Ángeles campaign hospital and mobile vaccine clinics mainly in rural areas. Now as of Saturday April 17th they are lending us their gym in Nacimiento so we can vaccinate our target population." 
Local and health authorities and CMPC representatives went through the gym, which as of now will be the only vaccination center in Nacimiento and surrounding areas where Covid-19 and Influenza inoculations will be done until June. 
CMPC Supervisor of Public Affairs for the central region, Didier Cares pointed out that, "In Nacimiento we've made our Santa Fe Plant's gymnasium available to authorities. It is an ideal space for attending to the target population of the vaccination campaign, especially as we approach the winter season."