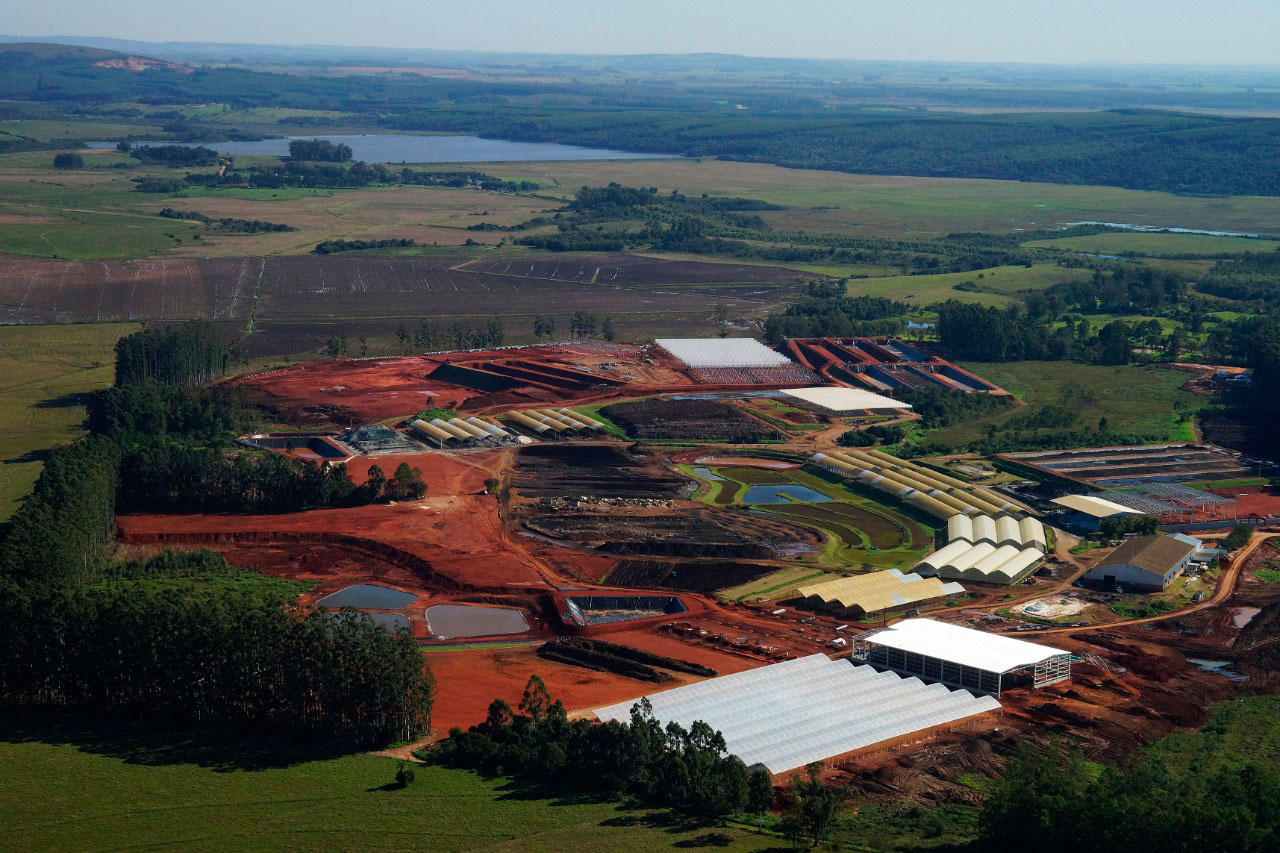 CMPC Brazil's VIDA Initiative presented as a "positive nature" success story at COP27
The initiative was recognized as an example of transformative actions in support of nature in the forestry sector. With this project, 600 thousand tons of waste have been reused each year in the state of Rio Grande do Sul in Brazil.
Under the framework of the COP27, 15 leading companies of the Forest Solutions Group (FSG) of the World Business Council for Sustainable Development (WBCSD) on Thursday published Phase I of the Forest Sector Nature-Positive Roadmap, which shows how the main companies in the forest sector are paving the way to halt and reverse nature loss, set science-based nature-related goals and objectives, and share progress using quantifiable metrics.
One of the initiatives is CMPC's VIDA underway in Rio Grande do Sul, a state in Brazil. In it the company treats 99% of the waste from the industrial process of its plant in that Brazilian state.
The project, which was carried out in collaboration with Vida Produtos e Serviços, a local company specialized in solid waste recycling, is done on a 99-hectare farm estate where about 600 thousand tons of waste are treated per year, thus reducing greenhouse gas (GHG) emissions and pollution as well as promoting the circular economy. In this way, the waste is reused to make 15 new products for agriculture, gardening and other activities, including organic fertilizers, egg trays and shoe insoles.
"This recognition of the waste recovery we do in Brazil reaffirms our commitment to sustainability, which is a central part of our strategy as a company. At CMPC we've signed on to a set of global environmental commitments and have set various goals to build much a more sustainable value chain and operations. Through initiatives such as VIDA we get closer to achieving these goals," said CMPC CEO Francisco Ruiz-Tagle.
Since 2011 CMPC has been a member of the Forest Solutions Group (FSG) of the World Business Council for Sustainable Development (WBCSD), collaborating in the construction and introduction of the Roadmap. Company CEO Francisco Ruiz-Tagle was chosen this year as one of the 19 executive directors of the Group. Ruiz-Tagle is the only Latin American Group member.
Some of the most important companies in all manner of industries around the globe are part of the WBCSD, from financial to automotive, forestry, energy, technology, consumer products, laboratories and consultancies, among other sectors.
Apple, Amazon, Bayer, BMW, Bridgestone, Chevron, Danone, Google, IKEA, Honda, IBM, Komatsu, KPMG, Mastercard, McDonalds, Mercedes Benz, Microsoft, Nestle, PepsiCo, Pirelli, P&G, Philips, Santander, Shell, Stora Enso, Toyota, Unilever, Walmart, Volkswagen and Walmart, are some of the companies in the Group.
A positive roadmap for nature
This year, greenhouse gas emissions into the environment reached a new global record. According to the latest Global Carbon Project report by more than 100 scientists, it is expected that by the end of 2022 it will reach 40.6 billion tons.
In addition, according to the report on the effects of climate change prepared by the Meteorological Service in Chile, 2021 was the fourth hottest year in the country in more than a century. The last 11 years have been the warmest on record. In other words, nature is more threatened today than at any time in human history.
That is why in a bid to help create an environmentally positive future, members of the Forest Solutions Group (FSG) published Phase I of the Forest Sector Nature-Positive Roadmap, the first of several similar efforts in other sectors represented in the WBCSD.
Phase I brings together the forest sector around a shared definition of "positive nature" that is based on concrete actions to halt and reverse nature loss throughout the entire life cycle of forest products.
Companies that participated in the creating this report include BTG Pactual, Timberland Investment Group, CMPC, Drax, Enviva, Manulife Investment Management, International Paper, Mondi, New Forests, Philip Morris International, Sappi, Smurfit Kappa, Stora Enso, Sumitomo Forestry, The Navigator Company and Weyerhaeuser.