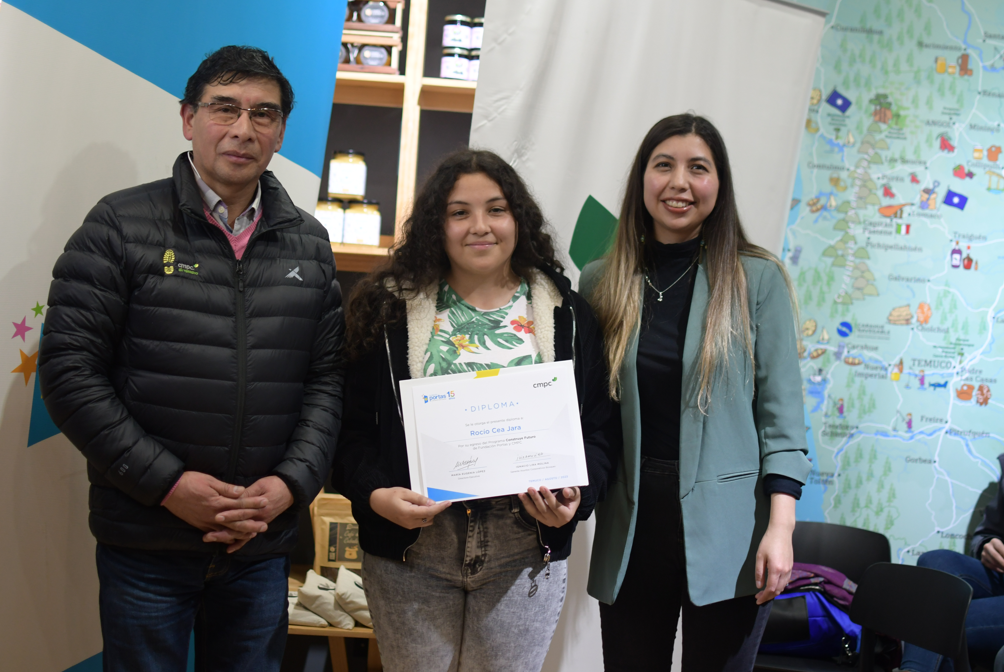 The town of Concepción in Chile has 10 new professionals thanks to scholarship program
The Construye Futuro [Building the Future] Program of CMPC and the Portas Foundation seeks to encourage higher education students to finish their studies instead of dropping out through a comprehensive support scholarship. More than 900 students are now part of the project.
Dropout rates of first-year students in Chile today are at 18.3%. In the Biobío and La Araucanía Regions of south-central Chile, these figures stand at 22.9% and 23.8% respectively, according to the Higher Education Information Service of the Ministry of Education in Chile, which means the issue of dropping out of higher education should absolutely be prioritized.
That is why the Portas Foundation and CMPC joined forces in 2019 to support the young adults in these two regions through a comprehensive program so they can continue pursuing higher education and graduate on time. CMPC – Portas Construye Futuro is an intervention program in educational communities that includes mental health, psycho-pedagogical and academic support as well as soft skills workshops, professional mentorships and financial aid.
The second of four graduation ceremonies in the Biobío and La Araucanía Regions was held in Concepción. The other three are taking place in the cities of Cañete, Temuco, and Los Angeles. The event was attended by 10 program graduates, Portas Foundation Executive Director María Eugenia López, CMPC Territorial Relations Deputy Manager Carlos Rodríguez, CMPC Community Relations Department Head Mario Bórquez and Community and Sustainability Director of the Portas Foundation María José Juárez among other Construye Futuro collaborators.
CMPC Territorial Relations Deputy Manager Carlos Rodríguez stressed that the most important thing about the program is that it provides comprehensive support to students. "As part of the company's sustainability pillars, one of the most important values is participating in community development. We can strengthen this pillar through education. That is why CMPC has entered into this partnership with Portas; to contribute to family and local development."
"Providing young people with opportunities to develop their individual intellectual, social, and cultural capital to maximum potential is the means through which we make the changes needed to create the society we all wish to have; one that offers greater possibilities and helps break the cycles of poverty. The intention is for each person to fulfill the objectives and dreams they set for themselves and their families," said María Eugenia López, Executive Director of the Portas Foundation.
Advancing life plans
"The program was very good since its comprehensive instead of just financial. They helped me with all areas of life, thanks to which I was able to finish my degree program. I will always remember them with happiness and positivity for their foundational support. The people in the program have undoubtedly made an impact on me and my plans. They've set an example for me to follow later on to volunteer to assist the students who will come after us," said Camila Collio, social Worker and Construye Futuro program graduate.
"My main challenge was dealing with the city lifestyle because I am from the countryside. I had to get used to different kinds of people. In college, my main difficulty was the courses in general, because I went to a municipal school and had to make up the gap between me and my classmates. I will remember the program fondly, especially Francisca, my support facilitator. Being here was really cool," said Ricardo Fernández, medical technologist with a focus on the clinical laboratory and program graduate.
The CMPC – Portas Construye Futuro program pursues the shared goal of encouraging higher education students to finish their studies instead of dropping out of universities, professional and technical training institutes. To date, about 90 people have gone through the program and more than 800 students are currently part of Construye Futuro.