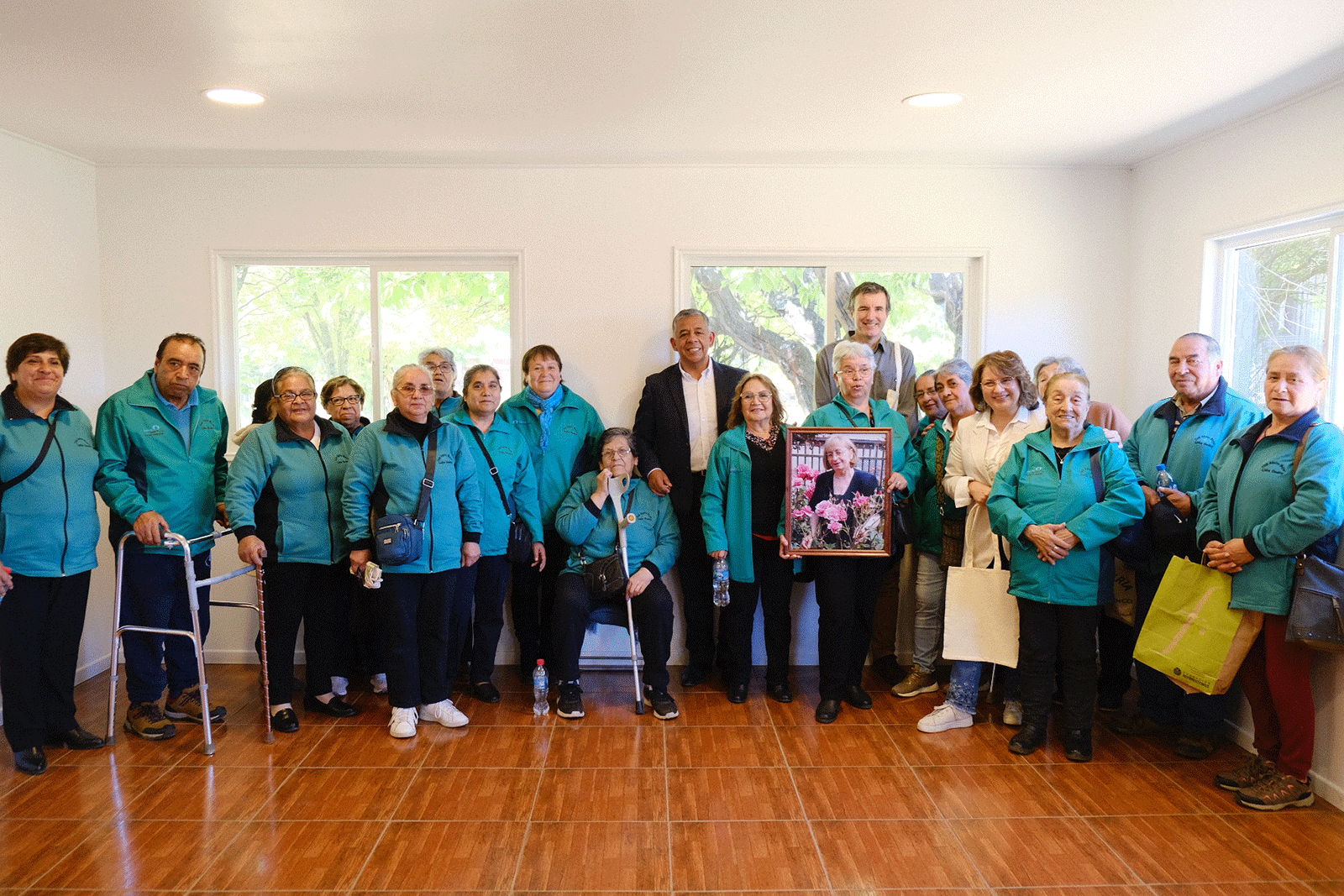 Inauguration of a modern multi-market and center for senior citizens in Villa Mininco, Region of La Araucanía, Chile
The space has 20 new, modern stands for local entrepreneurs, a senior center and a 1,000 m2 town square for the community.
The Villa Mininco Multi-market in the La Araucanía Region was inaugurated with a great celebration. The project arose from a partnership between CMPC and Desafío Levantemos Chile [the Support Chile Challenge] who, together with the community, built a new modern space with 20 stands for local entrepreneurs, a 70 m2 center for the Lidia Alvial Senior Association and a 1,000 m2 plaza for the cultural engagement of area residents. The inauguration ceremony took place on Friday with Mayor Manuel Macaya of Collipulli, a community in the Region of La Araucanía, CMPC authorities and the Desafío Levantemos Chile team, as well as more than 100 area residents who can now enjoy this new, modern space. 
Collipulli Mayor Manuel Macaya, pointed out that this infrastructure will give a facelift to Villa Mininco. "We're proud that CMPC Companies is once again fulfilling a social role in Collipulli today at the inauguration of a new multi-market, the Lidia Godoy Senior Center and town square. This investment exceeds 350 million pesos, which has been channeled directly to the community once again. We aim to support small farmers and entrepreneurs, so these are the required tools for CMPC and the municipality to support and contribute to the small farmers in the area and help change the image of Villa Mininco."
For his part, CMPC Corporate Affairs Manager Guillermo Turner acknowledged how important it is for the residents of Villa Mininco to have this venue. "It is very exciting to be here inaugurating this market and this space as well as the senior center. This is a reflection of a joint effort between neighbors, the company and the municipality to carry out these projects. This shows that with dialogue and a shared vision of what the needs are, real progress can be made. Truly, this market is a reflection of all the joint work executed by all the stakeholders and residents of Villa Mininco." 
The Lidia Godoy Alvial Senior Center has a space larger than 70 m2 where they can hold activities and meetings. It is built to high quality standards with SIP walls, concrete floors with ceramic tiling, interior cladding of plaster cardboard, exterior cladding with slotted MCA impregnated wood, as well as a kitchenette incorporated into the space.
The 20 stands built for local entrepreneurs were built with wooden partitions and OSB panels. The exterior cladding of the entire market is made of slotted MCA impregnated wood, and the pillars and beams are also made of impregnated pine.
This part of the plaza is greater than 1,000 m2 and was developed with sidewalks, concrete foundations and gravel surfaces, solar-powered lighting, as well as benches, garbage cans and wood and steel plant beds. The multi-market also has universal accessibility routes enabled throughout. 
Rosa Galdames, President of the Lidia Godoy Senior Center said the inauguration is a dream come true. "We can finally enjoy our own space after so much time spent trying to get one. We hope that even more members will join now that we have our own location to welcome all the grandparents looking for recreation, sharing experiences or simply enjoying life. We're very happy about this." 
Désafío Levantemos Chile Social Development Director Nicolás Canales said the work was done in conjunction with key actors in municipal development of the Collipulli district in the Araucanía Region. "At Desafío, we're about to celebrate four years and a large part of the projects we have carried out together with municipalities have been in this municipal district. This is one of the most important projects because it is emblematic of the community itself, especially Villa Mininco."