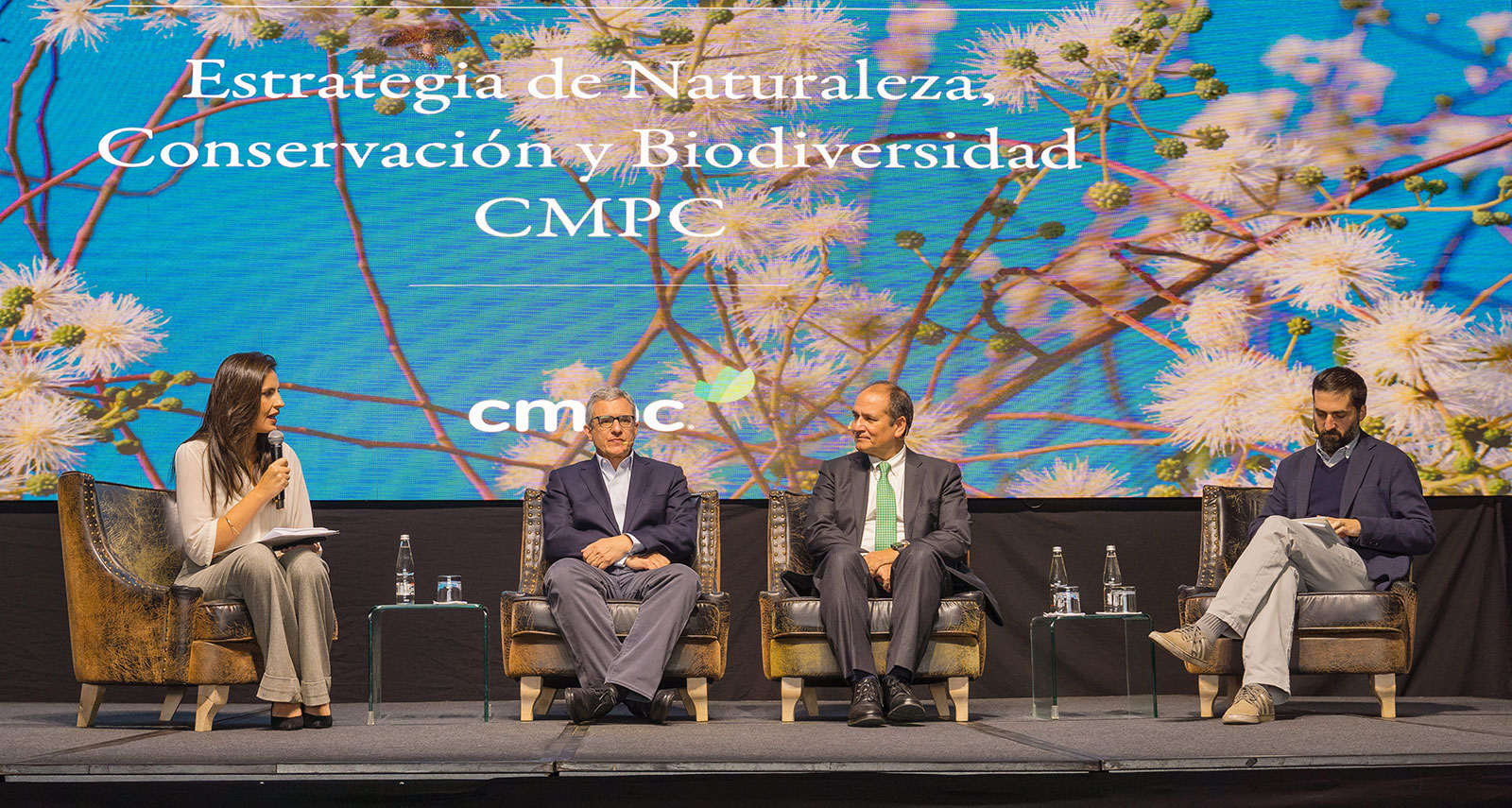 CMPC commits to an unprecedented Nature, Conservation and Biodiversity Strategy
The initiative seeks to value, protect and expand the more than 400,000 hectares that the company holds under conservation using a strategy for promoting biodiversity while developing the various ecosystem services found in both planted and native forests.

"If it can't be measured, it can't be improved." This phrase, often attributed to economist and strategist Peter Drucker, summarizes an important part of the goal of the unprecedented Nature, Conservation and Biodiversity Strategy that the CMPC Companies has just pledged itself to.
As its CEO Francisco Ruiz-Tagle has said, "Throughout its history, the Company has been dedicating hectares of its property to conservation and spearheading successful native vegetation restoration processes; however, now with our updated strategy we are positioning this activity as one of the pillars at the core of CMPC's business."
Indeed, CMPC currently has 402,000 hectares under conservation and protection, with just over half in Brazil (210,000 hectares), 20,000 in Argentina and more than 170,000 hectares in Chile. These include areas of high value for flora and fauna such as Rucamanqui in the district of Tucapel, which studies have shown is home to the endangered South Andean deer. La Pradera, bordering the Cerro Castillo National Park in Aysén, is another such high-value area.
Additionally, in Chile the Company has committed to restoring 10 million hectares, having already progressed by over forty percent. It has gained new experiences in conjunction with Chilean universities and scientists, as in the cases of the restoration projects in Angol and Empedrado.
Likewise, within the framework of its environmental commitments, CMPC has been working on an initiative to increase the number of hectares under conservation by 100,000 since 2019. These environmental goals have served as the basis for the issuance of green financial instruments, which makes evident the serious interest of international investors in stocks that promote environmental protection and biodiversity recovery.
"Our company produces environmentally-friendly products from nature-based solutions that come from renewable and sustainable forest plantations, so it's obvious that we're dependent on the environment. We care deeply about its protection, and increasing biodiversity is one key aspect," said Ruiz-Tagle.
He added, "That is why we promote plantation policies that protect important features like water basins. So far we've had three significant experiences with biological corridors, and we're also interested in new forms of nature protection, such as In Rem Rights of Conservation plans."
THE STRATEGY
The Nature, Conservation and Biodiversity Strategy is based on four pillars:
1) Biodiversity
2) Ecosystem services
3) Nature-based solutions
4) Territory-wide view
The first pillar is about the promotion and protection of all living things on earth (plants, animals, microscopic organisms, human beings). The second seeks to highlight the diverse benefits people can get from ecosystems or those that arise through interacting with them via tourism or simply contemplating forests and landscapes. The third refers to the products that rely on ecosystems and the services they provide, helping to address various societal challenges and benefiting people and the environment alike.
The fourth pillar, which underpins the first three, is about having a comprehensive view of the landscape and region in its entirety, incorporating the vision and interests of the communities surrounding the forests.
"The strategy aims to identify and assign value to all of forest attributes and services, from carbon sequestration to tourism or even the collection of mushrooms and medicinal herbs by local gatherers," said Ruiz-Tagle.
This appraisal enables the much needed progress toward one of the goals described by many economists around the world, which is to count nature and its assets as components of the global resource picture and an essential feature of its productive capacity. "This is the only way to understand what is going on in terms of the loss of natural value for global sustainability and to sound the respective alarm," said the CMPC CEO.
"Identifying and valuing ecosystem services is not necessarily the same thing as using or exploiting them, either now or in the medium or long terms. When we identify and value nature and its services, we glean key information for their protection and stewardship while improving our own actions and any resulting impacts on these reserves," he said.
Within the framework of this strategy, the company can evaluate conservation formulas such as In Rem Rights of Conservation or direct or indirect participation in the global carbon credit market. CMPC also continues to make strides on a key conservation and restoration project of its property in the Aysén Region of nearly 26,000 hectares.
FORUM
In conjunction with the strategy's launch, a forum was held in Concepción in the Biobío Region of Chile to discuss the role of the private sector in conservation. It was moderated by Paloma Ávila, journalist and host of Futuro 360 of CNN Chile. CMPC Chairman Luis Felipe Gazitúa, Nature Conservancy Chile Director Juan José Donoso, Biobío Governor Rodrigo Díaz, and Ruiz-Tagle himself all participated as well.