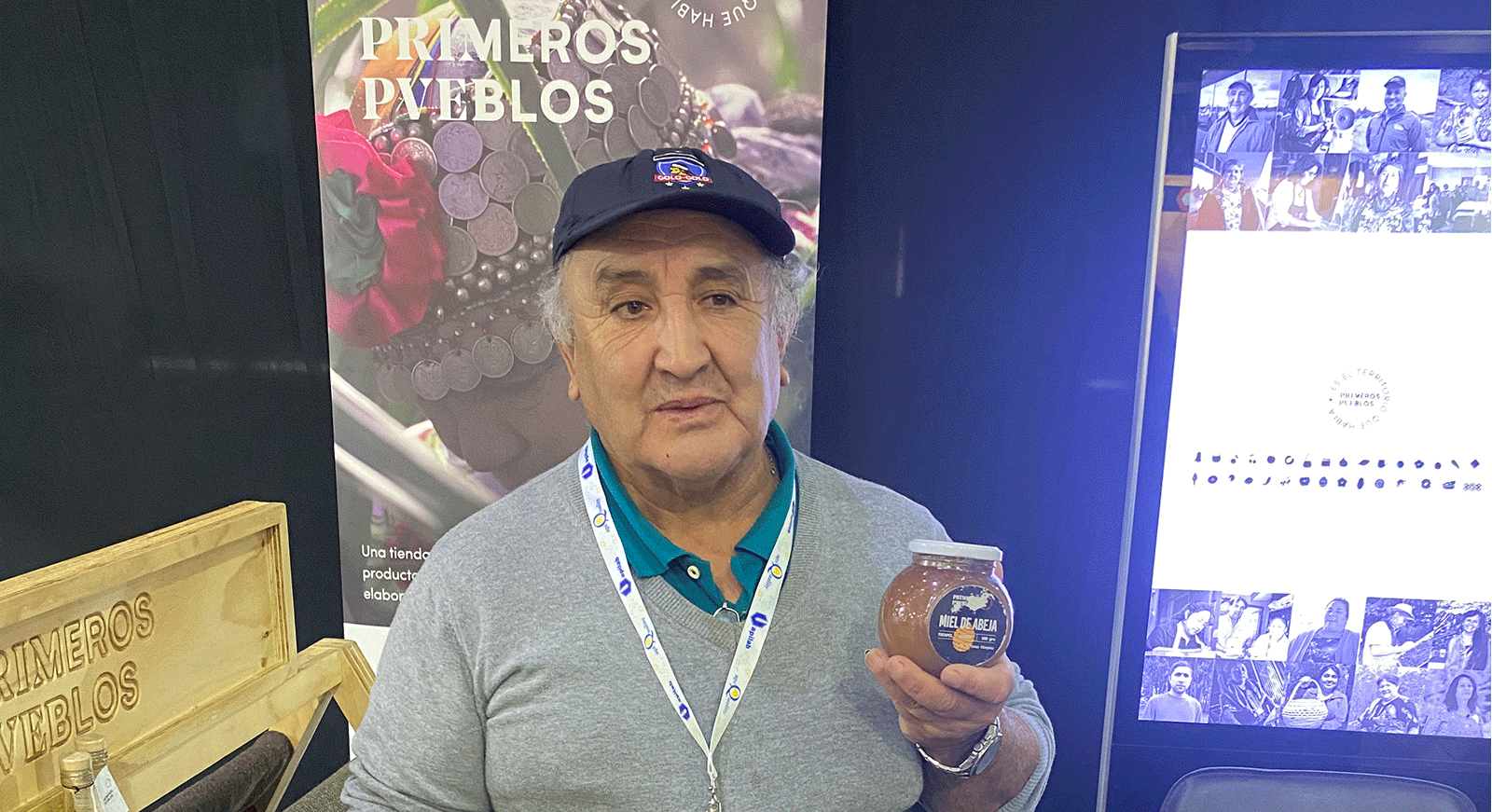 Beekeepers from Biobío participated in the most important global apiculture event
Four professionals from southern Chile participated in Apimondia, a gathering that brings together experts from around the world to show off the latest advances and discuss trends in beekeeping around the world.
The participants cultivate honey on CMPC land, as the company offers a special program to help market and showcase the products of beekeepers in the region.
"From the south of the world for sustainable beekeeping" was the motto of this year's Apimondia, the most important world meeting of beekeepers. It was held for the first time in Chile at the Espacio Riesco in the Metropolitan Region. Specialists and professionals from all over the world attended the 48th edition of the event, which includes beekeepers from Biobío who are part of a program that promotes and showcases the honey they've been producing for years in southern Chile. 
One of them is Sonia Mosquera, a beekeeper from Tucapel in the Biobío Region who has been dedicated to this profession for more than 20 years. She has more than 600 honey production hives and has been working together with CMPC since 2011. This is thanks to a special program that the company offers in southern Chile. In addition to providing logistical and material support for producing bee products, it makes its land available so that bee professionals can place their hives in them so the honey has optimal quality. 
"My hives are on the Mininco forest grounds in Rucamanqui, and I don't pay anything to keep them there. I harvest honey, raise queen bees and do pollination. They support me in this and thanks to them I've been able to get ahead. Honey is the largest source of income in our household," says Sonia. When she started working with the company, I had around 100 hives, a figure that has increased sixfold since then.
She added that she produces about 6,000 liters of honey each year, which is marketed in Concepción, Talcahuano and other places in the Biobío Region. In Apimondia, Mosquera said that she hopes to expand the commercial network for her products, since she intends to sell beyond the region's borders in the future. "I want to see how other people present their products and what new things I can incorporate because I plan to reach top-tier markets and hopefully sell my honey throughout Chile. For now I'm in the Biobio area, but my goal is to go further," she said.
But that's not all. The company also supported and guided the beekeepers so they could certify their honey with the PFEC seal, which demonstrates the traceability of honey and proves that it is 100% pure. This certification also demonstrates that the production process is sustainable, that no additives or genetically modified organisms are used and that the condition of the honeycombs is respected, among other conditions.
"As CMPC, we are proud of the great results that the beekeeper support program has provided. Thanks to this collaboration, they've been able to increase the number of hives they maintain daily and increase the amount of honey they sell each year. Their participation in Apimondia is undoubtedly a significant milestone since they've learned more about what's going on in the beekeeping world and grown their business networks through contact with other actors in the field," said CMPC Forests Corporate Affairs Manager Ignacio Lira. 
Luis Alfonso Vásquez is another beekeeper from Biobío who attended Apimondia. He said that he has "CMPC-certified honey, which is also from inside certified plantations, another great advantage. Today customers are more interested in where their food comes from. Since it's certified, that helps me a lot. I'm starting my fourth year in this program and I've noticed a difference. Now the honey has a bit of eucalyptus in the mix, and people like that very much." Vásquez is part of CMPC's Primeros Pueblos program, which helps him market his products in Santiago. "I never thought I'd get as far as selling my honey in the capital," he said.
Luis has been a beekeeper since he was very young. This has been his life-long trade. When asked about his participation in Apimondia, he said that he's excited to be at "the most important world meeting of beekeepers. I never thought I'd be here because most countries in the world are actually represented here. It's incredible. I'm going to learn a lot here. There are countries that are obviously more advanced than we are in beekeeping, so I'll learn a lot from them," he said. 
For his part, Flavio Reyes, in charge of technical affairs at PEFC Chile, explained the importance of beekeepers being able to keep their hives on forested land. "The main problem that beekeepers have is space. Not everyone has sufficient land with the flora they need to optimize honey production. Having CMPC's land at our disposal in terms of their forest plantations, but also the area where they have native forest and the natural water courses is really important, because it enables them to work throughout the production period. If not, they'd be limited to just one area, and their production process would be shorter."
Apimondia: the world of beekeepers
Producers, consultants, manufacturers, experts, and other specialists meet every four years at Apimondia, the most important beekeeping event in the world. It was just held in Chile for the first time, bringing together thousands of people at Espacio Riesco. 
The 48th edition of this event boasted a large pavilion of exhibitors with more than 200 stands, as well as talks, workshops and roundtables during which participants could delve more into the latest advances in the field and expected upcoming trends.